Show Taxi
Central Harbourfront Event Space
, , , Hong Kong
中環海濱活動空間
Marriott Bonvoy Presents Gwen Stefani – Cathay Pacific/HSBC Hong Kong Sevens Festival
With opening guest Supper Moment
Event Details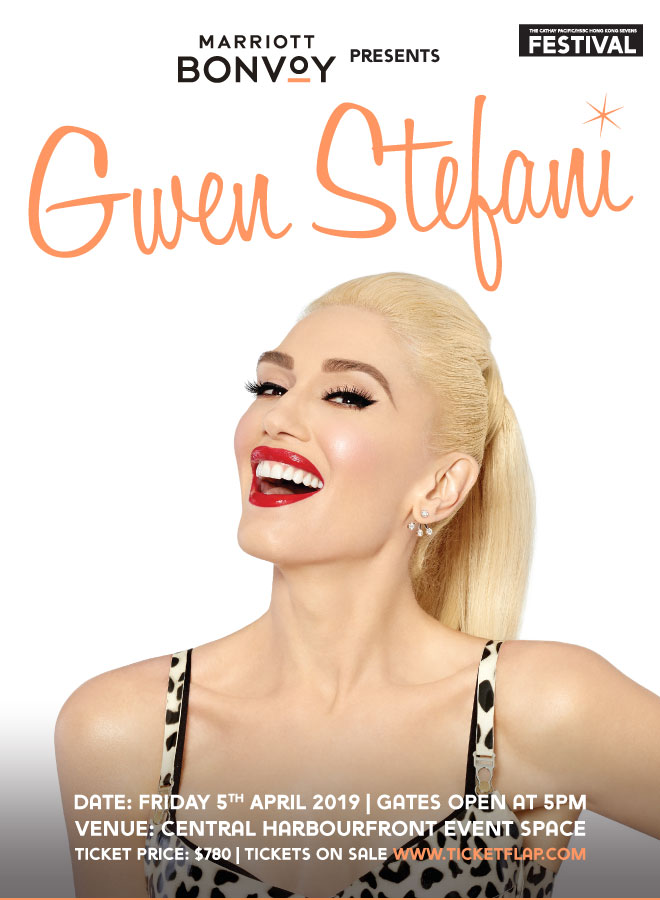 Show more
More Details
**Now with opening guest Supper Moment**
Local pop-rock band Supper Moment will be the opening guest for Gwen Stefani this Friday night (April 5) at Hong Kong's Central Harbourfront.
Known for their energetic and powerful performances, Supper Moment is one of the most popular Cantonese pop-rock bands in Hong Kong.
Since forming in 2006, the quartet has released a string of Hong Kong chart topping hits and has been no stranger to the city's stage, having played to packed houses at renowned venues both in Hong Kong and abroad.
5pm – Gates open
Live Rugby Sevens on big screen
7pm (approx.) – Supper Moment
9pm (approx.) – Gwen Stefani
Three-time GRAMMY® Award winner and global icon Gwen Stefani will perform a one-off show at Hong Kong's Central Harbourfront event space on Friday, April 5, presented by Marriott Bonvoy.
The concert will headline the activities as part of the 2019 Cathay Pacific/HSBC Hong Kong Sevens Festival.
Trendsetter Stefani has achieved worldwide success as a performer, songwriter, and recording artist who has sold more than 30 million albums worldwide with No Doubt and as a multi-platinum solo artist.
In 2016, Stefani released her critically praised third album This Is What The Truth Feels Like which debuted at #1 on the Billboard Top 200 and featured the No. 1 single "Used To Love You." This Is What The Truth Feels Like followed her other solo albums — Love.Angel.Music.Baby and The Sweet Escape - which featured the hit singles "Rich Girl," "Sweet Escape," "What Are You Waiting For?" and the Pharrell Williams-produced No. 1 hit "Hollaback Girl."
Scores of awards honor Stefani's accomplishments. In addition to her three GRAMMY® Awards, Stefani has been honored with four MTV Video Music Awards, two Billboard Awards, an American Music Award, Brit Award and much more.
Running across the three days of this year's tournament (April 5-7), the Cathay Pacific/HSBC Hong Kong Sevens Festival extends the atmosphere of the rugby revelry and entertainment to the streets of Hong Kong.
The 2019 edition will incorporate the city's Central Harbourfront event space, with the venue hosting Stefani on April 5 before transforming into 'Sevens Central' for Saturday, April 6 and Sunday, April 7, a fanzone featuring live music, entertainers, the rugby action on big screen and free entry
Terms and Conditions:
All sales are final Each tickets admits one person only. A valid ticket must be presented for admission.
By purchasing an Event ticket (a "Ticket") and/or attending the Event using a Ticket, you agree to be bound by the terms and conditions set out herein.
Children under 12 must be accompanied by an adult
Food, soft drinks and alcohol cannot be brought into the Event. There are fully licensed bars available for you.
No underage drinking
You will not be allowed to bring any glass bottles of any kind into the Event. There are no exceptions.
A bag search will be conducted on entry.
No professional cameras/audio recording devices.
No camera accessories, including selfie sticks, trip pods, go-pro mounts and attachments.
No animals are allowed at the Event, other than assistance dogs (such as guide dogs).
The Organiser reserves the right to refuse admission to any Ticket holder and may on occasion conduct security searches to ensure the safety of visitors. The Organiser shall be entitled to remove anyone from the venue who is under the influence of drugs or excessive alcohol or who, in the reasonable opinion of the Organiser, is conducting themselves in a manner inappropriate to their continued attendance. There shall be no admittance without a valid Ticket.
Tickets shall not be resold, exchanged, or transferred. To do so or to alter or deface any Ticket will render it void. It is the Ticket holder's responsibility to check his or her Tickets, as mistakes cannot always be rectified, and the Organiser shall not be responsible for any lost or stolen Tickets.
Tickets shall not be used as prizes in competitions without the prior written consent of the Organiser.
The Organiser, its servants or agents will not be liable for any loss, injury or damage howsoever caused to the bearer of this Ticket save for death or personal injury caused by the negligence of the Organiser, its servants or agents or any other liabilities that cannot be excluded by law.
Should the Event be postponed no refund of the Ticket price or any additional expenditure shall be made to the Ticket holder.
Occasionally, inclement weather can disrupt an open-air event. Any decision to cancel the Event will be taken only at the advertised start time. No refund will be made if the Event starts but is later abandoned.
Event Host
Hong Kong Sevens Festival 2019
You already have an order in progress. Would you like to cancel the previous order and start again, or would you prefer to return to the previous order instead?
It seems you already have an order in-progress. Please finish or cancel your existing order before starting a new order.
Cancelling previous order...
Your order is already cancelled.