Venue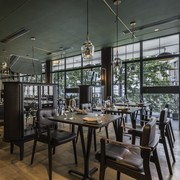 Aberdeen Street Social
Housed in a two storey colonial house and hidden within PMQ, Aberdeen Street Social is a collaboration between entrepreneur Yenn Wong, founder of JIA Group and Michelin-starred Chef Jason Atherton. Under the direction of Executive Chef Chris Whitmore, Aberdeen Street Social serves modern cuisine, a playful mix of old favourites and fresh ideas driven by the seasons. Seemingly simple, but containing great finesse, the fare is perfect for any time of day, be it lunch, dinner, afternoon tea or a weekend brunch.
General Manager Ryan Nightingale - also one of Hong Kong's most awarded bartenders, steers both the social atmosphere of Aberdeen Street Social as well as the downstairs bar programme. Expect wines from both the old and new world, as well as cool takes on classic cocktails. Surrounded by green and with an outdoor terrace on both floors, it's a hidden gem in the heart of central Hong Kong.
G/F, JPC, PMQ.,
35 Aberdeen Street, Central
Hong Kong
There are no current events.