Show Taxi
KEE Club
6/F, 32 Wellington Street, Central, Central, Hong Kong, Hong Kong

中環威靈頓街 32 號 6 樓, 香港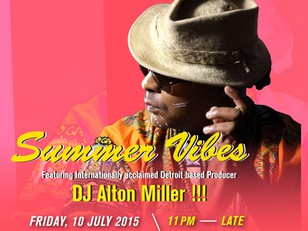 Summer Vibes with DJ Alton Miller (Detroit)
Event Details
Show more
More Details
Featuring Internationally acclaimed Detroit based Producer DJ Alton Miller!

Detroit-based producer, singer, and percussionist Alton Miller has been playing an instrumental role in defining House Music for over two decades. Alton is one of a remaining few of a rare breed of musicians who have preserved an allegiance and connection to the history and artistry of the art form and its traditions - traditions that Alton himself helped to shape.

Raised on Stevie Wonder, Santana, Parliament Funkadelic and the Philadelphia Sound, Alton's early roots in soul music led to an affinity for clubbing and the perfect storm of music, dance, and skill that is required to create it. During a frenzied tour of North American clubs in the late 80s, Alton began developing his deejaying skills under the electrifying energy of House Music founding fathers like Ron Hardy, Frankie Knuckles, Larry Levan, and Timmy Regisford.

Over the years, Alton has had the opportunity to tour countries all around the world including Japan, Australia, South Africa, Europe, and New Zealand. He has also had the pleasure of recording with some of the best independent labels in the industry, including Defected, Planet E, King Street, Nitegrooves, Trackmode Records, Seasons, and Octave Lab. Alton views every new recording, album and performance as a new opportunity to push his creativity to the limit. He is as passionate about House as he was the day he first heard the music 20 years ago.
You already have an order in progress. Would you like to cancel the previous order and start again, or would you prefer to return to the previous order instead?
It seems you already have an order in-progress. Please finish or cancel your existing order before starting a new order.
Cancelling previous order...
Your order is already cancelled.