Show Taxi
The Hub
1F Fortune Building, 150-158 Lockhart Road, Wan Chai, Hong Kong, Hong Kong

香港灣仔駱克道150-158號祥友大廈一樓全層, 香港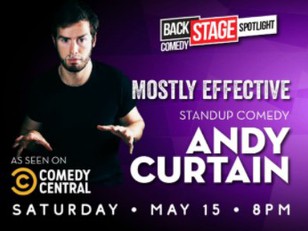 Andy Curtain: Mostly Effective
Event Details
Show more
More Details
Aussie comedian Andy Curtain headlines his all-new standup show 'Mostly Effective' May 15, with Backstage Comedy.
Andy's comedy special 'Leaving China' began airing on Comedy Central Asia in August. He's toured Asia with Jim Gaffigan, Jim Jefferies, and worked with acts including Kevin Hart, Dave Chappelle and Gad Elmaleh.
He featured on SiriusXM, Comedy Cellar Radio, The Riotcast Network and The Sydney Morning Herald. He stars in the online Mamahuhu series, hosts the Ho Ho Hong Kong podcast and spent the last 10 years touring through the US, Asia and Australia.
"Andy's comedy is electric." - TimeOut Magazine
"Always funny." – Jim Gaffigan
"A strong set that continued to gather momentum as the jokes rolled on." - Beat Magazine
Check out more on www.thebackstagehk.com
Event Host
Back Stage Comedy HK
You already have an order in progress. Would you like to cancel the previous order and start again, or would you prefer to return to the previous order instead?
It seems you already have an order in-progress. Please finish or cancel your existing order before starting a new order.
Cancelling previous order...
Your order is already cancelled.