Show Taxi
JC Cube
10 Hollywood Road, Central, , , Hong Kong
賽馬會立方
中環荷李活道10號, , , 香港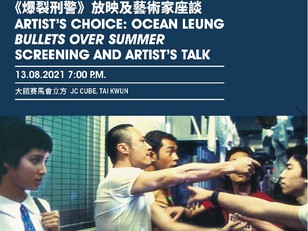 Artist's Choice: Ocean Leung
Bullets Over Summer screening and artist's talk
Event Details
Show more
More Details
1999 / Hong Kong / 88 min / Colour / 35mm / in Cantonese with Chinese and English subtitles
As an unorthodox and reckless detective duo, Mike (Francis Ng) and Brian (Louis Koo)'s latest mission is to track down and arrest the cold-blooded robber Dragon. Mike and Brian go undercover in the older sectors of Kennedy Town, and come across a motley crew of characters: a demented granny who provides shelter for them, the pregnant Jennifer who runs a laundry shop on her own, Yen, a street kid who habitually skips class and is out for trouble. Despite the constraints of a small budget, Bullets Over Summer strives to defy the expectations of genre by imbuing comic and romantic elements into a typical crime-action drama.
Visually violent and discordant, the artist Ocean Leung's works usually plant lucid observations and critiques under a crude surface. His works find resonance in Bullets Over Summer's volatility and local flavour; the artist is very much touched by the film's energetic, mischievous atmosphere and the heavy-handed yet delightful plots. Following the screening, Leung will take Bullets Over Summer as a starting point and go on to share his recent artistic themes and inclinations, and how to extract inspiration from images and spaces from city life.
The artist's talk will be conducted in Cantonese, with simultaneous interpretation to English provided.
-
Ocean's artistic practice involves observation and intervention through flaneuring, sometimes working with found images and ready-made objects, so as to explore the interplay between art and its plights. The result appears in the form of object, installation and video, exhibited to accumulate a visual disruption.
Recent exhibitions include a solo called "fleshed out nails" (ACO Art Space, 2020) and group shows such as "Residual Heat" (Axel Vervoordt Gallery, 2021), "The World is A Show For My Chosen Eyes Delight" (Gallery Exit, 2021), "Borrowed Scenery" (Cattle Depot, 2019) and "Café do Brasil" (Para Site, 2019). Leung co-curated the exhibition "No Neverland" (Hong Kong Visual Arts Centre, 2017), "Any Other Business'' (The Office, 2017), community based art project "Yau Ma Tei Self-Rescue Project" (Wooferten, 2012) and "P-at-Riot: June-Fourth Festival for Post-80s generation" (2009). He is also the producer of two independent documentary films "Open Road After Harvest'' (Hong Kong, 2015) and "The Way of Paddy" (Hong Kong, 2013).
In 2018, Ocean founded an artist collective, Epical Chamber. Born in 1983, Leung lives in Hong Kong. He graduated from the Department of Fine Arts (BA), The Chinese University of Hong Kong in 2006, and obtained a Master of Fine Arts degree (MFA) in 2016 from Graduate School of the same university. Leung is now a high school visual art teacher.
Event Host
Tai Kwun Contemporary
You already have an order in progress. Would you like to cancel the previous order and start again, or would you prefer to return to the previous order instead?
It seems you already have an order in-progress. Please finish or cancel your existing order before starting a new order.
Cancelling previous order...
Your order is already cancelled.