Show Taxi
Hong Kong Cultural Centre, Concert Hall
10 Salisbury Road, Tsim Sha Tsui, Kowloon, Hong Kong, Hong Kong
香港文化中心音樂廳
香港九龍尖沙咀梳士巴利道十號香港文化中心, Tsim Sha Tsui, Kowloon, Hong Kong, 香港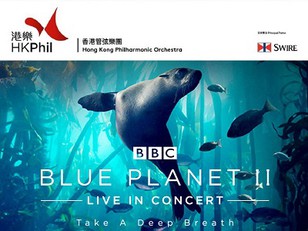 [CANCELLED] HK Philharmonic Orchestra - BBC Blue Planet II Live in Concert
Narrated in Eng, Live Orchestra Performance film screening
Event Details
Show more
More Details
All persons will be required to use "LeaveHomeSafe" mobile application to scan the venue QR code before they are allowed to enter the Hong Kong Cultural Centre (HKCC). Under the new arrangement, persons who are aged below 12 or aged 65 or above and those with disabilities that render use of the app difficult will be exempted from the requirement of using the app when they enter the HKCC. Exemptions will also be granted to individual persons depending on the actual circumstances. All exempted persons are required to complete a record form to register their names, the first four digits or letters of their identification documents, their contact numbers and the date and time of their visits. They are also required to present relevant identification documents for verification at the request of the staff on-site during registration. The staff will also verify the contact numbers by making phone calls.
Age Limit: 6 or above


Event Host
The Hong Kong Philharmonic Orchestra
You already have an order in progress. Would you like to cancel the previous order and start again, or would you prefer to return to the previous order instead?
It seems you already have an order in-progress. Please finish or cancel your existing order before starting a new order.
Cancelling previous order...
Your order is already cancelled.