Show Taxi
Studio 9
9/F, Union Industrial Building , 48 Wong Chuk Hang Rd, Wong Chuk Hang, Hong Kong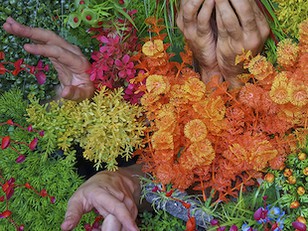 Blood Wine or Honey
Event Details
Show more
More Details
Plastic Pagan invites you to celebrate the release of the first EP from Blood Wine or Honey, with another live show in Hong Kong less than a month after their stellar debut at Sónar Hong Kong! The evening will kick off with a DJ set from the mighty Preservation (one of the remixers on the 12") and continue late into the night with DJ Fei Pao!
Blood Wine or Honey have honed their mantric afro-bitten electro-psychedelia in the industrial warehouses of Hong Kong, surrounded by the smell of dried fish, the throb of heavy machinery, and the humidity of the South China Sea.
Their music is ritualistically euphoric and artificially organic, like a chopped-up free jazz excursion in collision with UK grime, or Sun Ra jamming with a Laurel and Hardy sampling Public Enemy. It's the lovechild of War and Joey Beltram; Talking Heads conjoined with some kind of pungent hypno-tropicalia.
You already have an order in progress. Would you like to cancel the previous order and start again, or would you prefer to return to the previous order instead?
It seems you already have an order in-progress. Please finish or cancel your existing order before starting a new order.
Cancelling previous order...
Your order is already cancelled.