Show Taxi
Hidden Agenda (Winful Industrial Building) - Dont use
2A, Winful Industrial Building, 15-17 Tai Yip Street, Kwun Tong, Hong Kong, Hong Kong
Hidden Agenda
永富工業大廈 2 樓 A 室, 大業街 15-17 號, 香港牛頭角, 香港
暴君 Bloody Tyrant live in Hong Kong
Event Details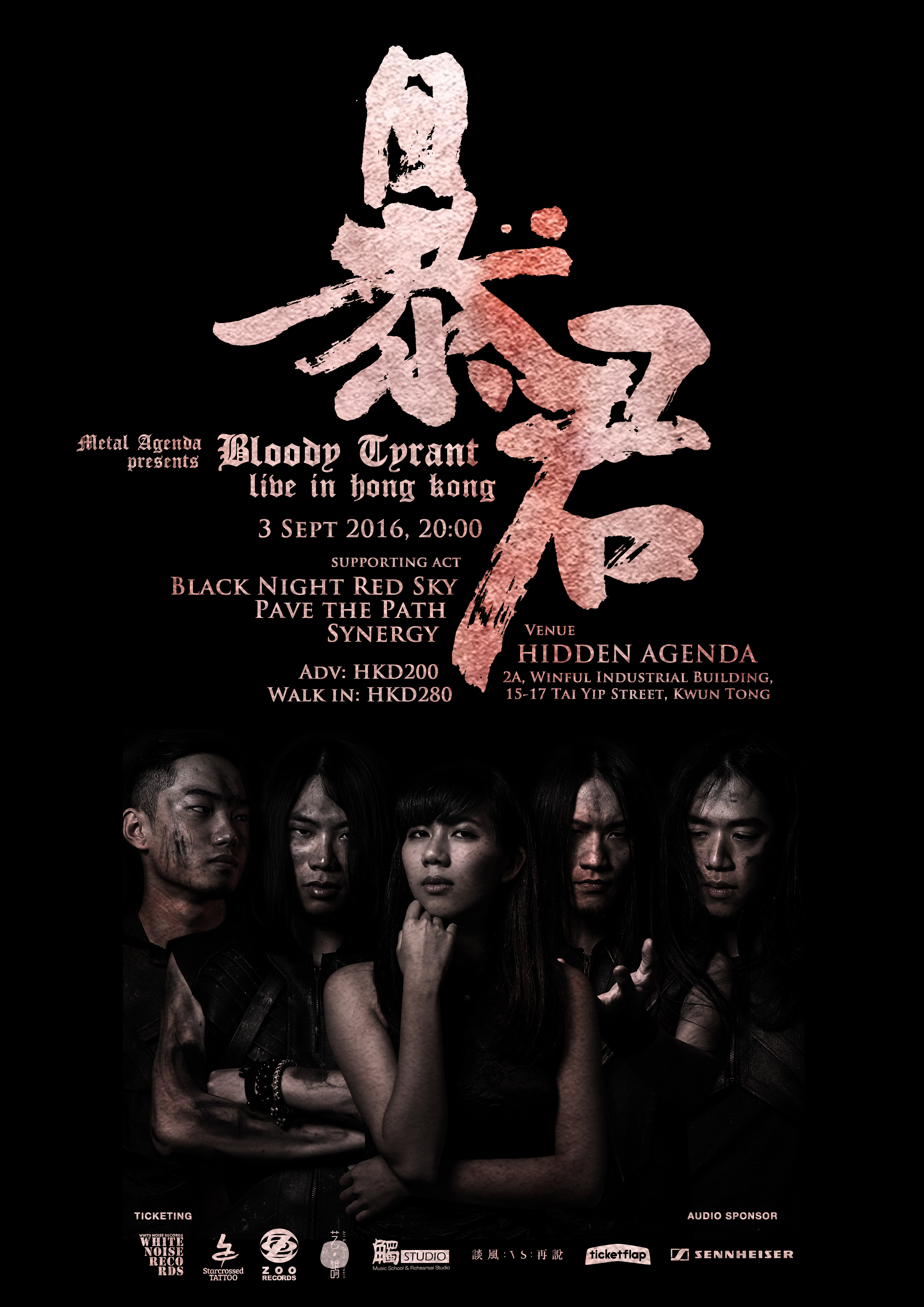 Show more
More Details
Metal Agenda presents: 暴君 Bloody Tyrant live in Hong Kong
演出樂隊 Performing Band:暴君 Bloody Tyrant (TW)
共演嘉賓Guest Bands:Black Night Red Sky, Pave the Path & Synergy
日期Date : 3 September 2016
時間Time : 8:00PM
地點Venue:Hidden Agenda
門票Ticket:$200(Advance)
-----------------------------------------------------------
|| 樂隊介紹 ||
- 暴君 Bloody Tyrant
https://www.facebook.com/BloodyTyrantTW
來自南投的民謠/黑金屬(Folk/Black Metal)樂團,成立於2008年,於2009年,以高速、粗殘、邪惡、晦暗的風格發行第一張專輯「末日黎明」,同年受發片演出同台死亡金屬樂團-Seed之邀至韓國的金屬音樂祭演出,隔年和日本鞭擊金屬團-Deaflock在台灣同台巡演。
2012年,發行第二張作品,嘗試性的將琵琶加入EP-「水沙漣 序」之中,並開放免費下載。EP中的旋律線較第一張專輯優美許多,整體概念以闡述日月潭相關神話故事為主,作品名為「序」,是以未來將發行的概念專輯做一序曲,為各位導讀未來更耐人尋味的水沙漣故事。
2015年,暴君用篇幅更大、格局更廣且更有深度的新專輯《水沙漣傳奇》來呈現水沙漣的盎然,水沙漣的美;水沙漣的壯闊,水沙漣的悲。
新專輯除了《水沙漣 序》中原有之琵琶的鏗鏘與柔美,也加入笛子來述說畫眉鳥鳴之百囀千聲,更加入管弦樂來刻畫水沙漣嶼的煙波浩渺,讓暴君之氣勢更磅礡,格局更廣闊。
《水沙漣傳奇》的故事內容改編自日月潭雙龍吞日月的神話傳說,並加入了許多對於政治,歷史,與社會現況的看法,以影射的方式架構出心目中的神話世界。
- Black Night Red Sky
https://www.facebook.com/Blacknightredsky
Black Night Red Sky (BNRS) is an extreme metal/deathcore band based in Hong Kong, formed in 2011 and only aims to deliver heavy, obnoxious and groovy tunes, following touches of melodic and ambient swells to express our subliminal emotions.
- Pave the Path
https://www.facebook.com/pavethepath
Pave The Path is a melodic death metal band which is influenced by the metal scene in northern Europe. It was founded in Hong Kong since 2011 and inspired by the advice from Islander of No Clean Singing, in a review for the band's early work. After a couple years of crafting, the band renamed to Burn Dead By Dawn and got formed in 2013. The lineup was reformed in early 2015 and the band renamed to Pave The Path. The band is currently performing shows and recording the inspired work for their upcoming EP.
Pave The Path是一隊北歐風格的旋律系死亡金屬樂團。樂團在香港於2011年建立,推出了數首另類作品。經金屬網站No Clean Singing作者Islander對樂團早期的作品作出評論與忠告後,創作方向逐漸明確。兩年後,樂團再次組成並命名為Burn Dead By Dawn,同時推出了少量作品。隨著成員的改動,兩年後再次重組並改名為Pave The Path,在開始演出的同時進入了錄音階段,首張EP專輯將記載啟發的過後。
- Synergy
https://www.facebook.com/synergyhongkong/
香港前衛金屬樂團SYNERGY,成立於2012年, 活躍參加香港各類型的音樂演出,亦多次獲邀作國內知名樂團在香港演出的暖場嘉賓, 2013年七月更有幸為北京知名樂團"軍械所"香港演唱會擔任暖場, 亦參加了加拿大Envol et Macadam 舉辦的PLANTROX音樂比賽, 其單曲The First Filth的音樂録像更得到網上投票的最高票數而入選, SYNERGY各成員均喜愛不同的音樂類型, 亦追求創作和編曲上的創新, 希望利用多元化的編曲上令聽眾感覺到不一樣的張力和高低起落,凝聚隊員中不同的思想和元素, 創作出比較獨特的重型音樂, 此亦是SYNERGY之名的由來!
2013年12月 擔演"Head Phone President"在香港和廣州的巡演暖埸。
2014年10月 更有幸擔任弘力樂器,為Jeff Loomis和Keith Merrow所舉辦的Schecter吉它大師香港站的演出嘉賓樂隊
2015年5月 獲國內音樂組織"狂瀾"邀請、在東莞so what livehouse舉辦首個專埸演出
同年6月 擔任中國金屬班霸"窒息"樂隊全國巡演香港站的開場嘉賓。
2015年12月 舉辦國內南方四站巡演
2016年新鼓手Howard加入、將會把徧向更極端的金屬曲風和前衛原素融合、呈現於觀眾眼前。
You already have an order in progress. Would you like to cancel the previous order and start again, or would you prefer to return to the previous order instead?
It seems you already have an order in-progress. Please finish or cancel your existing order before starting a new order.
Cancelling previous order...
Your order is already cancelled.