Show Taxi
This Town Needs
1/F, Ocean One, 6 Shung Shun Street, Yau Tong, Kowloon, Hong Kong, Hong Kong

崇信街6號Ocean One 一樓, 九龍油塘, 香港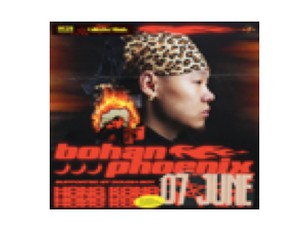 Bohan Phoenix presented by Collective Minds x OC2S
More Details
Chinese-American hip-hop star Bohan Phoenix returns to Hong Kong for what's bound to be an epic show alongside local trendsetter Dough-boy.
---- TICKETS ----
Super Early Bird - HKD 200

Early Birds - HKD 250

Advance - HKD 300

Door - HKD 400

This is an all ages event
--- BOHAN PHOENIX ---
Born in China and immigrating to the US at the age of 11 not knowing how to speak a word of English, Bohan quickly learned the language after falling in love with hip hop.
He is now renowned in both Chinese and American music scenes for his unique method of effortlessly fusing both languages in his lyrics to reflect his dual identity and bridging both cultures.
Having accumulated a top tier list of producers including BBC Radio 1's Benji B, E-40 and Tory Lanez collaborator Ryan Hemsworth, and Chinese underground legend Howie Lee as well as artists such as Dumbfoundead and Higher Brothers as his confederates, it's safe to say that Bohan Phoenix has constantly been taking the world by storm.
His groundbreaking visual concept for his track "OVERSEAS" has garnered significant press coverage with platforms such as Pigeons & Planes, Ebro on Beats1, Highsnobiety, Hypebeast, Mass Appeal, and the South China Morning Post. The one-of-a-kind music video boasted interactive multi-angles, seamlessly merging tech and artistry and providing a unique, brand new experience.
Apart from that, his other music releases has seen considerable cosigns by entities such as THE FADER and 88Rising, and has seen spotlight placements on Spotify, Apple Music, and REVOLT.
He has also racked up a Boiler Room/Fendi performance for NY Fashion Week, performing alongside Migos, 21 Savage, and Metro Boomin. Bohan constantly reinvents himself as a multi-hyphenate, international artist - building bridges, breaking down boundaries.
Listen & Follow:
Spotify: https://open.spotify.com/artist/18YneNJbsTdMUWiKQDiD9P?si=2JkyDqntTkmXN9usUyTTkw
Youtube : https://www.youtube.com/channel/UC04BsaM70tz7nSLAOALJWDg
Soundcloud : https://soundcloud.com/bohanphoenix
Instagram : https://www.instagram.com/bohanphoenix/
Facebook : https://www.facebook.com/BohanPhoenix/ Twitter : https://twitter.com/bohanphoenix
--- DOUGH-BOY ---
Arguably Hong Kong's most well-known rapper of this generation, Dough-Boy is born in Toronto and raised in Singapore, Dough-Boy has an impressive list of accomplishments.
Dough-Boy has collaborated with the biggest Chinese rappers and artists including MC Jin, 熱狗 MC HotDog, Tizzy T, Jackson Wang, Lexie Liu, Masiwei of HigherBrothers, 側田Justin Lo, 頑童MJ116 and many more. Dough-Boy is the first and only rapper to win an HK Film Award for a rap song. He has been featured on magazines and media including VICE, Noisey, HYPEBEAST, Yoho! and others.
Listen & Follow:
Spotify: https://open.spotify.com/artist/5hzXPEu0WeYHg3zQts4BGX Youtube: youtu.be/eH-LyOYLt_Y
Instagram: https://www.instagram.com/doughboybeatsyou/?hl=en
Facebook: https://www.facebook.com/doughdoughdoughboy/
Event Host
Collective Mind (Orbis)
You already have an order in progress. Would you like to cancel the previous order and start again, or would you prefer to return to the previous order instead?
It seems you already have an order in-progress. Please finish or cancel your existing order before starting a new order.
Cancelling previous order...
Your order is already cancelled.