Show Taxi
Music Hall, St. Joseph's College
26 Kennedy Road,, Mid-Levels, Hong Kong
Brahms - Ein deutsches Requiem
... the most humane requiem ever
Event Details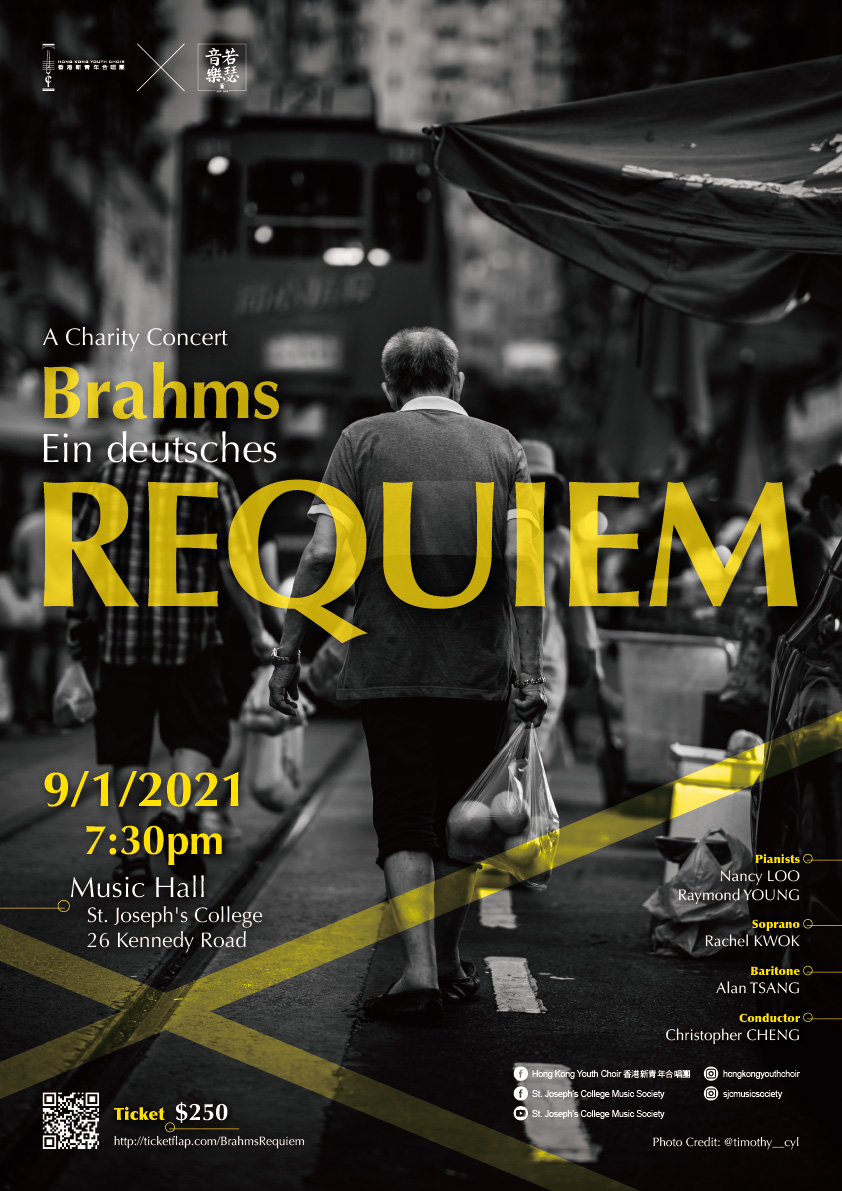 Show more
More Details
As Brahms' longest piece, the GermanRequiem is a piece which consoles all people. Without elaborate liturgies and teachings, it is an earnest plea for divine deliverance.
This frees up the Requiem and makes it speak directly to weary souls. In all seven movements, the texts start from our deprivations to the final sacred embrace and blessings. How feeble and weak one may be, the heavenly dwelling lies in the heart from our lifelong quest. The idea culminates in the fourth movement, residing in the middle of the piece and surrounded by the other six movements, with each of them professes Brahms' mastery in harmonic richness and instrumental beauty.
Death may seem far but also imminent, as the pandemic and unrests tell us. Under the lead of Christopher Cheng and the choir, let us first grasp some serenity and peace at the start of 2021 to prepare ourselves for the future days ahead, with the music enlightened by our marvellous pianists Nancy Loo and Raymond Young, the soloists Rachel Kwok and Alan Tsang, who all serve our city with great music over the years.
Please come and join us to embrace lives in a most humane way.
#Brahms #JohannesBrahms #EindeutschesRequiem #AGermanRequiem #Op45 #SJC #StJosephsCollege #requiem #choralmusic #choral #chorale #GermanClassicalMusic #germanromanticism #HongKongYouthChoir #HKYC #pianoduo #pianoduos #fourhandspiano #MixedChoir #soprano #baritone #hkmusic #hkchoir #musicgram
Event Host
Hong Kong Youth Choir
You already have an order in progress. Would you like to cancel the previous order and start again, or would you prefer to return to the previous order instead?
It seems you already have an order in-progress. Please finish or cancel your existing order before starting a new order.
Cancelling previous order...
Your order is already cancelled.