Show Taxi
Brickhouse
G/F, 20A D'Aguilar St, Central, Hong Kong, Hong Kong
Brickhouse New Year's Eve Mardi Gras
Event Details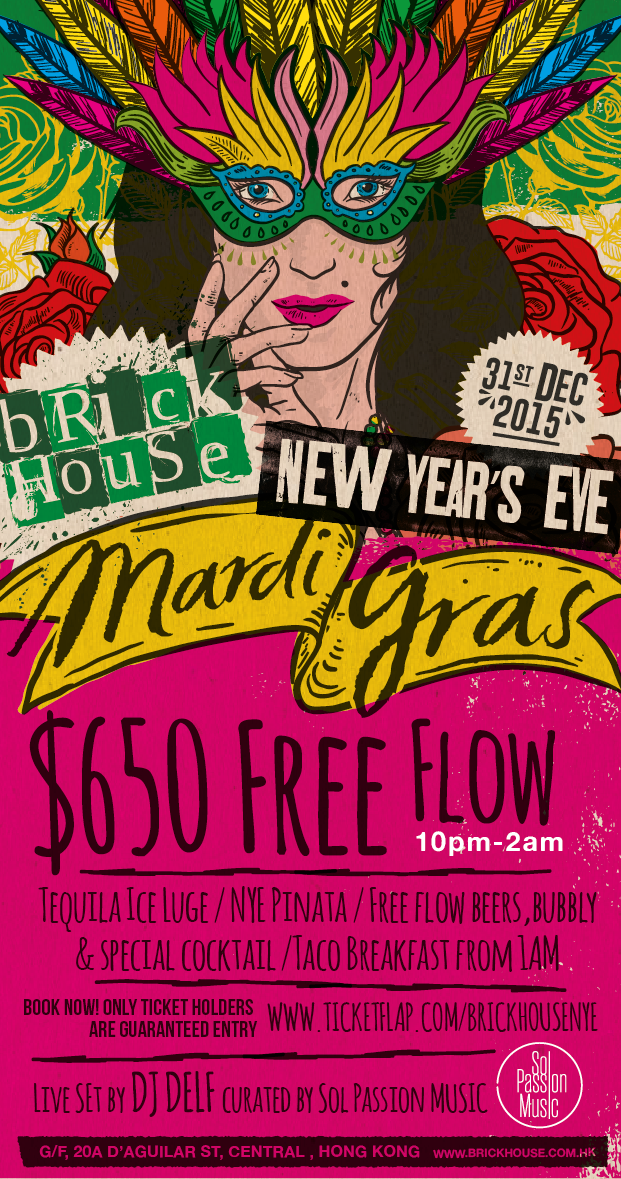 Show more
More Details
This New Year's Eve, Brickhouse will be giving you a cool experience away from the conventional parties into its little alleyway where we will be throwing back tequila shots and hanging out to great tunes all the way into the New Year!

Hong Kong's little Mexico will be this year's festivity without the stress. Join us for our Mardi Gras madness! Keeping it easy, we will be handing out loads of tequila shooters to ring in the New Year.
Enjoy our free flow package for an all inclusive of 590HKD which includes beers, special cocktail and 1AM Tacos.
Get festive at Brickhouse and enjoy our NYE Piñata with exciting treats & vouchers, Tequila Ice Luge and Mardi gras party favors.
Afraid of the NYE LKF Queues. Fear Not! Our Brickhouse liaison will be picking up all Mardi Gras guests and escorted into Brickhouse. Jump the queue and get straight to the music.
Price: HKD 650 Includes Free Flow Beers & Special Cocktail / NYE Piñata / Tequila Ice Luge / 1AM Tacos
DJ: DJ DELF

You already have an order in progress. Would you like to cancel the previous order and start again, or would you prefer to return to the previous order instead?
It seems you already have an order in-progress. Please finish or cancel your existing order before starting a new order.
Cancelling previous order...
Your order is already cancelled.