Something went wrong, please start again.
If you wish to change your selection, you will need to start the package again. Would you like to restart your select for all items in the package, or continue with the currently selected options?
Show Taxi
4/F, 7 Mallory Street
7 Mallory St, Wan Chai
Please be aware that the system is unable to assign all the seats you have requested together in a single row.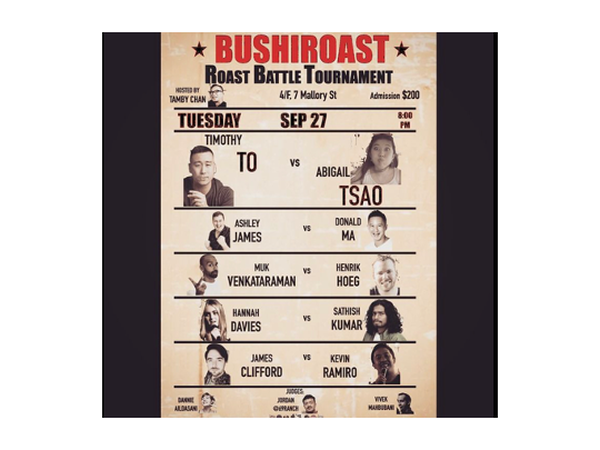 BUSHIROAS7: Roast Battle Tournament
Event Details
Show more
More Details
Hong Kong's top comedians and bottom comedians battle it out with funny insults and personal attacks about each others' craft, appearance, and private lives!
Witness the most significant event in history as the seventh Comedy.HK BUSHIROAST Champion is crowned, live only at 7 Mallory Street!
Featuring Tim To (Winner of BUSHIROAST IV and VI), Henrik Hoeg (Winner of BUSHIROAST V), Ashley James (Winner of Backstage Comedy Roast Battle), and several other people!
#roast #roasts #roasted #roastbattle #jokes #insults #comedy
You already have an order in progress. Would you like to cancel the previous order and start again, or would you prefer to return to the previous order instead?
It seems you already have an order in-progress. Please finish or cancel your existing order before starting a new order.
Cancelling previous order...

Your order is already cancelled.
Sorry, your session has expired.