Show Taxi
Kerry Hotel
38 Hung Luen Road, Hung Hom Bay, Kowloon, Hong Kong, Hong Kong
嘉里酒店
香港九龍紅磡灣, 紅鸞道38號, 香港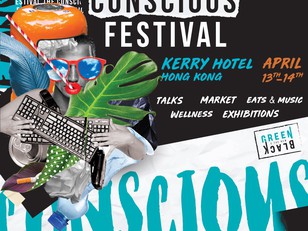 The Conscious Festival by Green Is The New Black
Hong Kong's First Festival around Conscious Living
More Details
THE CONSCIOUS FESTIVAL By Green Is The New Black Asia is returning to Hong Kong for its 2nd edition!

A zero waste festival where fun and sustainability go hand in hand. With a market featuring over 80 mindful brands, transformative talks, delicious healthy eats, organic booze, interactive art, and games - this is one festival not to be missed.
[FREE ENTRY]
Saturday 13 & Sunday 14 April 11AM-7PM
Register here: https://tinyurl.com/GITNBCFHK2019

[Talks are ticketed]
Register today to hear from over 30 incredible speakers - feed your mind, spark inspiration and ignite your impact on the world. Mix and match the sessions or join us for all 4 (scroll down for all the details).

http://greenisthenewblack.com/festival/
-------------------------
the MARKETPLACE
-------------------------

> the MARKET - with over 80 conscious brands from fashion, lifestyle, and beauty showcasing products that protect people and the planet.

> FOOD fair & live MUSIC - enjoy mouth-watering food and refreshing booze while you enjoy live beats.

> EDUTAINMENT - engage and learn with games, live demos, mini-activities and interactive art.

More deets coming soon.

-------------------------
the TALKS *
-------------------------
1) LIVE - Altruism & Resilience [Sat 13 April 10.50am - 1.30pm]
In a world ripe with natural disasters, political instabilities, claims for the end of our civilization before 2030 (by groups like collapsologues) it's easy to ask 'do our actions really matter?'
But if we change our viewpoints, our actions can show beauty instead of pain. If we can be more altruistic, by putting the needs of others and the planet before ours, can we have a more resilient world? Let's teach ourselves these habits.

2) WORK - Intrapreneurship for Good [Sat 13 April 2.20pm - 5pm]
Purpose and intrapreneurship - two words that have been buzzing around recently. But how can we actually activate them in the context of sustainability? How can we do good and do well? During this session, we will be tackling finding purpose at work by empowering employees to be the change, trends in impact investing, how companies and individuals can work together to tackle and solve sustainability issues.
3) CONSUME - Slowing down! [Sun 14 April 10.50am - 1.30pm]
The perpetual pressure on growth in a world that has finite resources is impossible. Can we slow down growth to speed up recovery? How can we find ways to use what already exists?
From shifting 'the Asian dream', to things we have forgotten (or don't know) about sustainability to alternative proteins and the plant-based revolution - this session calls for paradigm shifts in thinking and acting.
4) TRAVEL - Out(inn)er Exploration [Sun 14 April 2.20pm - 5pm]
Travel - a way to escape, to discover who you are, or maybe remember who you were. In this session we will dive into exploring outside to rediscover inside, going back to basics and our inner nature, building the eco(resort) dream and lightening your footprints.
-------------------------
Get In Touch
-------------------------

Want to get involved? Be a vendor? Volunteer? Join the conscious movement? Send us an email at holla@greenisthenewblack.com

Check out what happened last year:
https://www.facebook.com/gitnbasia/videos/2028150643894631/

-------------------------
Our Partners / 我們的合作伙伴
-------------------------
Held at Kerry Hotel Hong Kong 嘉里酒店
Media Partner Green Queen
Lifestyle Media Partner Hong Kong Tatler
PR Partner Voltage PR

Big thanks to all our community partners!

www.greenisthenewblack.com

#LittleGreenSteps #LiveMoreConsciously
Event Host
Green Is The New Black
You already have an order in progress. Would you like to cancel the previous order and start again, or would you prefer to return to the previous order instead?
It seems you already have an order in-progress. Please finish or cancel your existing order before starting a new order.
Cancelling previous order...
Your order is already cancelled.