Show Taxi
La Salle College Large Lecture Theatre
18, La Salle Road, Kowloon, Hong Kong

九龍仔喇沙利道, 18號喇沙書院, 香港
Dan Yu & Students Recital
Fundraising Concert for Ruth Inglefield Memorial Scholarship
Event Details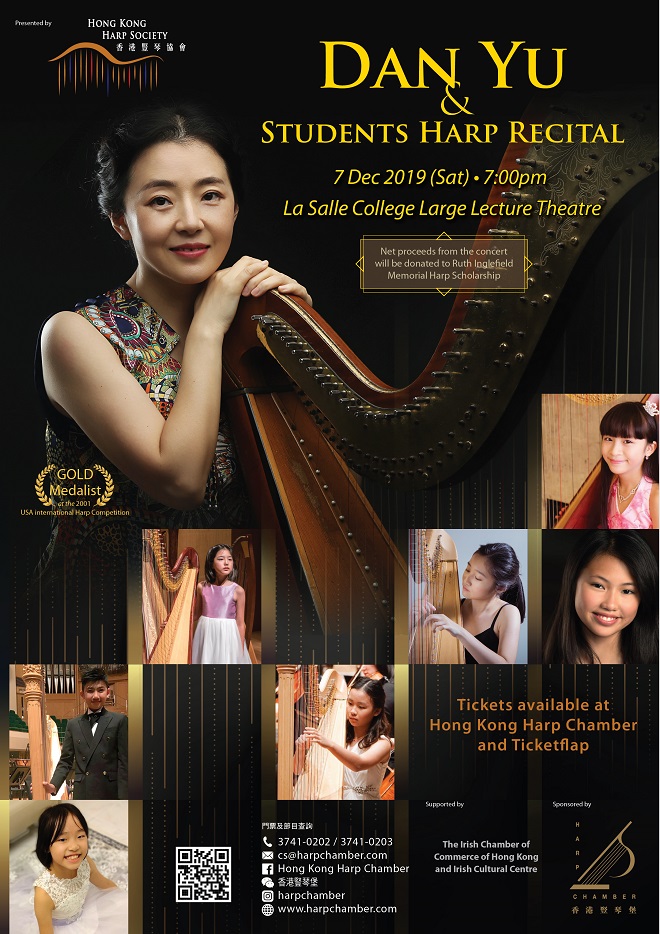 Show more
More Details
Fundraising Concert for Ruth Inglefield Memorial Scholarship
Date: 7 Dec 2019 (Sat)
Time: 7:00pm
Venue: La Salle College Large Lecture Theatre
Address: 18, La Salle Road, Kowloon, Hong Kong
Price: $380, $280 (Free seating)
Student Performers: Valerie Chow, Hanae Ishikawa, Annalise Mak, Rose Shek, Valerie Sim, AJ Wong
Net proceeds from the concert will be donated to Ruth Inglefield Memorial Harp Scholarship
* Ticketflap customers must exchange their Ticketflap tickets for official tickets in the reception in front of the Theatre on 7 December from 18:30 to 19:00.
#danyu #dan #harp #harprecital
Event Host
Hong Kong Harp Society Limited
You already have an order in progress. Would you like to cancel the previous order and start again, or would you prefer to return to the previous order instead?
It seems you already have an order in-progress. Please finish or cancel your existing order before starting a new order.
Cancelling previous order...
Your order is already cancelled.