Show Taxi
L'ÉCOLE, School of Jewelry Arts
Unit 510A, L5, K11 MUSEA, Victoria Dockside, 18 Salisbury Road, Tsim Sha Tsui, Hong Kong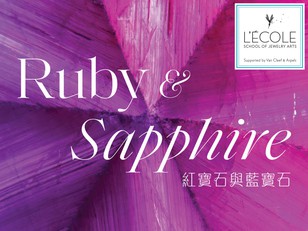 Exhibition "Discover the Gemstones, Ruby & Sapphire"
presented by L'ÉCOLE, School of Jewelry Arts (Registration for June & July)
Event Details
**Updated 14/7: L'ÉCOLE Asia Pacific - Temporary Closure & Open House (Sat 18/7) postponed**
Your health and safety are our priorities. In light of the current situation, L'ÉCOLE will be temporarily closed from 15/7 while the reinstated government measures apply. Courses in July and exhibition tours will be rescheduled, and L'ÉCOLE Open House originally scheduled on 18/7 (Sat) will be postponed to a later date in fall. Registered visitors will receive an individual email for any further arrangement. Thank you for your kind understanding!
L'ÉCOLE Asia Pacific
Inquiries: +852-26530030
Email: hk.lecole@vancleefarpels.com
Brand new exhibition brought to you by L'ÉCOLE, School of Jewelry Arts in Hong Kong!
Embark on a journey with two of the most coveted precious gemstones, ruby and sapphire, with L'ÉCOLE's new exhibition, illustrating the marriage between nature's gift and human creativity.
You'll first travel inside the gemstones to discover the inner beauty that nature creates through the photomicrography of Billie Hughes, a gemologist and award-winning photographer. Her images are an encounter between art and science, capturing the "birthmarks" of gemstones - the "inclusions" - in microscopic depth, like terraced mountains and iridescent flowers.
Your journey then takes on to explore ruby and sapphire when they are first unearthed, before any human intervention, through the exquisite minerals in their natural geological forms. The various colors demonstrate what nature gives to corundum – the family that ruby and sapphire belong – a palette of rainbow colors.
Alongside the minerals are high jewelry creations showcasing the skill of lapidary – the art of stone-cutting. The various shapes of rubies and sapphires, be it faceted or with smooth surface like cabochon-shaped, bring out the vibrant colors of these two gems which have mesmerized people for thousands of years.
This interactive exhibition also allows visitors to try out the gemologist's gestures. Through the microscope, get ready to plunge into the fascinating microworld of rubies and sapphires.
********
10 June - 30 September 2020
Monday to Sunday, 1pm - 7pm
Free admission, with free guided tour on the hour
(Conducted in English, Cantonese or Mandarin as indicated. Last session at 6pm.)
L'ÉCOLE Asia Pacific, School of Jewelry Arts
Unit 510A, 5F, K11 MUSEA
Victoria Dockside, 18 Salisbury Road, Tsim Sha Tsui, Kowloon, Hong Kong
Show more
More Details
About L'ÉCOLE, School of Jewelry Arts
L'ÉCOLE, School of Jewelry Arts was established in 2012 in Place Vendôme, Paris, with the support of High Jewelry Maison Van Cleef & Arpels and opened its second permanent location in K11 MUSEA, Hong Kong in November 2019. It is the first school in the world to invite everyone from the general public to connoisseurs to explore the world of jewelry arts. In addition to providing courses throughout the year at the permanent Paris and Hong Kong locations, L'ÉCOLE has expanded its educational programs worldwide with travelling editions featuring special courses, talks, publications and exhibitions in cities such as Tokyo, New York and Dubai. L'ÉCOLE carries several research projects and partnerships with museums and academic institutions, including Musée des Arts Décoratifs (Paris), The Comédie-Française Museum (Paris), École Boulle, École supérieure des Arts Appliqués et du Design (Paris) and also Liang Yi Museum (Hong Kong). It also offers online educational videos and a library specialized in jewelry arts.
Event Host
L'ÉCOLE, School of Jewelry Arts
You already have an order in progress. Would you like to cancel the previous order and start again, or would you prefer to return to the previous order instead?
It seems you already have an order in-progress. Please finish or cancel your existing order before starting a new order.
Cancelling previous order...
Your order is already cancelled.