Show Taxi
Helena May
35 Garden Road, Central, Hong Kong, Hong Kong
Thinking outside the box: Creative ways to engage clients and facilitate treatment
Event Details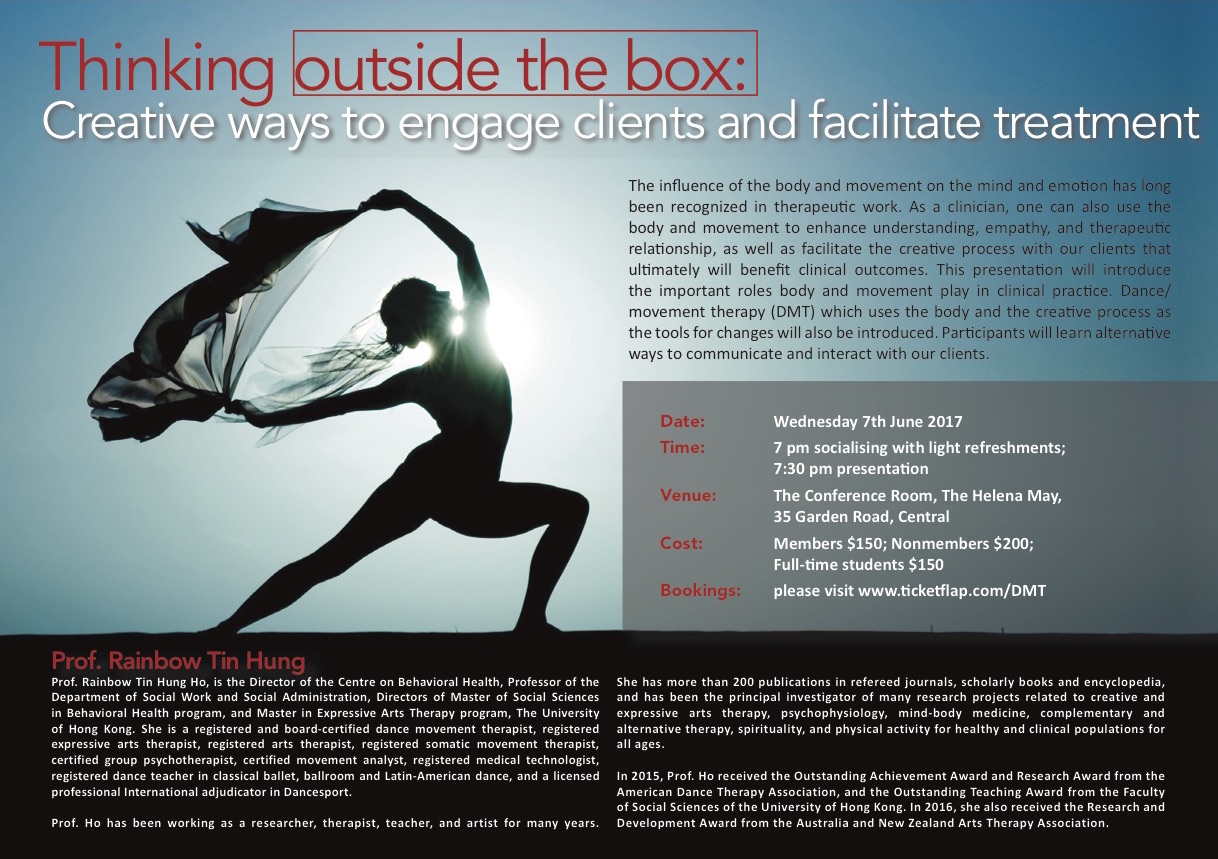 Show more
More Details
The influence of the body and movement on the mind and emotion has long been recognized in therapeutic work. As a clinician, one can also use the body and movement to enhance understanding, empathy, and therapeutic relationship, as well as facilitate the creative process with our clients that ultimately will benefit clinical outcomes. This presentation will introduce the important roles body and movement play in clinical practice. Dance/movement therapy (DMT) which uses the body and the creative process as the tools for changes will also be introduced. Participants will learn alternative ways to communicate and interact with our clients.
Prof. Rainbow Tin Hung Ho, is the Director of the Centre on Behavioral Health, Professor of the Department of Social Work and Social Administration, Directors of Master of Social Sciences in Behavioral Health program, and Master in Expressive
Arts Therapy program, The University of Hong Kong. She is a registered and board- certified dance movement therapist, registered expressive arts therapist, registered arts therapist, registered somatic movement therapist, certified group psychotherapist, certified movement analyst, registered medical technologist, registered dance teacher in classical ballet, ballroom and Latin-American dance, and a licensed professional International adjudicator in Dancesport.
Prof. Ho has been working as a researcher, therapist, teacher, and artist for many years. She has more than 200 publications in refereed journals, scholarly books and encyclopedia, and has been the principal investigator of many research projects related to creative and expressive arts therapy, psychophysiology, mind-body medicine, complementary and alternative therapy, spirituality, and physical activity for healthy and clinical populations for all ages.
In 2015, Prof. Ho received the Outstanding Achievement Award and Research Award from the American Dance Therapy Association, and the Outstanding Teaching Award from the Faculty of Social Sciences of the University of Hong Kong. In 2016, she also received the Research and Development Award from the Australia and New Zealand Arts Therapy Association.
Event Host
Psychotherapy Society of Hong Kong
You already have an order in progress. Would you like to cancel the previous order and start again, or would you prefer to return to the previous order instead?
It seems you already have an order in-progress. Please finish or cancel your existing order before starting a new order.
Cancelling previous order...
Your order is already cancelled.