Show Taxi
Y Theatre
Youth Square , 238 Chai Wan Road, Chai Wan, Hong Kong, Hong Kong

香港柴灣柴灣路 238 號柴灣青年廣場, 香港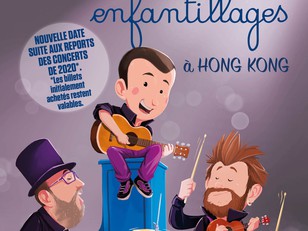 ALDEBERT 'Enfantillages à Hong Kong'
Event Details
Show more
More Details
Le projet "Enfantillages", autour de chansons destinées à la famille toute entière, a été créé en 2008 par Aldebert. En une dizaine d'années, "Enfantillages" a su fédérer de plus de en plus de monde, tant du côté de la vente d'albums (600 000 exemplaires vendus) que de celui des tournées (1 000 000 de spectateurs) Après trois album et deux hors-série (Enfantillages de Noël et 10 ans d'Enfantillages), Aldebert se consacre dès le début de l'année 2020 à l'enregistrement du 4ème volume, pour une sortie prévue à l'automne 2021.
Près de soixante artistes français (chanteurs & comédiens) ont d'ores-et-déjà rejoint Guillaume (Aldebert) pour interpréter un titre en duo avec lui, et pour ce nouvel album, il a souhaité ouvrir le champ des possibles en y associant musiciens et artistes du monde en entier. Avec l'idée d'en faire un album de chansons, habillées par les sonorités des instruments du monde et teintées de langues étrangères.
Et quoi de mieux pour provoquer des rencontres que d'aller présenter son répertoire aux quatre coins de la planète ? Le projet d'album et donc associé à une tournée "best of", avec deux premières phases au printemps 2020 : Océan Indien en mars, et Asie / Pacifique en avril. Le spectacle sera présenté à trois sur scène : Aldebert - guitare & chant, Christophe Darlot - claviers & choeurs, et Hubert Harel - batterie, guitares, ukulélé & choeurs.
You already have an order in progress. Would you like to cancel the previous order and start again, or would you prefer to return to the previous order instead?
It seems you already have an order in-progress. Please finish or cancel your existing order before starting a new order.
Cancelling previous order...
Your order is already cancelled.