Show Taxi
Ovolo Hotel Southside
64 Wong Chuk Hang Road, Wong Chuk Hang, Hong Kong
ESCAP3
ESCAP3 the ordinary. ESCAP3 @ Ovolo Southside
Event Details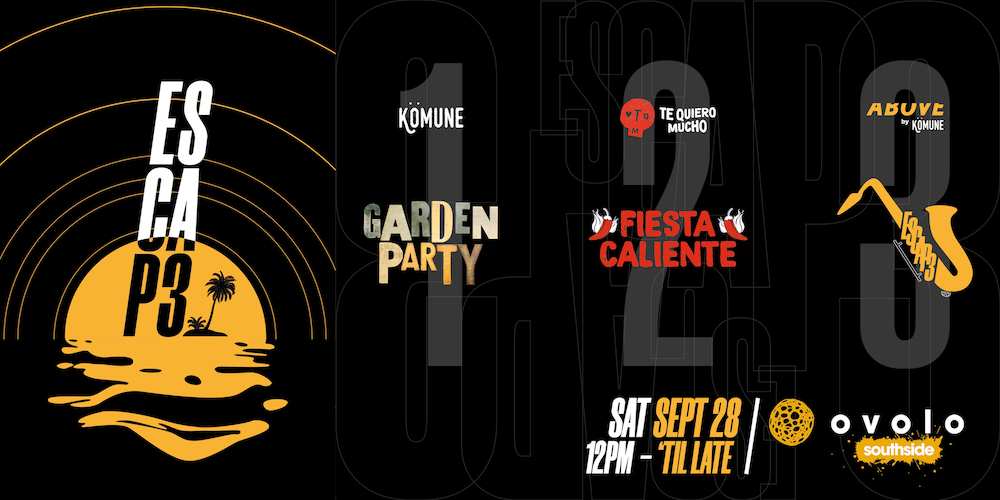 Show more
More Details
ESCAP3… the ordinary
ESCAP3… the week
ESCAP3… @ Ovolo Southside
Celebrate the 5th Anniversary of Ovolo Southside…
with our ultimate multi-level, multi-sensory ESCAP3.
-----------------------------------------------------------------------------------------------------
ESCAP3 DAY PACKAGE:
SESSION 1: Garden Party @ Komune 12-4PM
Experience the perfect summer garden party on Komune's lush, iconic terrace.
What better way to soak in summer state than with free-flowing Aperol Spritz, Pilsner Urquell, wines and soft drinks, along with an unlimited open fire grill BBQ, and live band. So step in, chill out, drink up and ESCAP3 to the perfect Saturday afternoon.
- Free Flow - Aperol Spritz, Pilsner Urquell, wines and soft drinks.
- Unlimited BBQ - Pork ribs, Chicken Wings, Shrimp, Striploin, Sausages, and Grilled Vegetables
- Salad Buffet & Dessert Station
- Kids Corner - Mac & Cheese, Chicken Nuggets, Hot Dogs, Popcorn Machine and Face Painting
ESCAP3 NIGHT PACKAGE:
The Night Package includes Session 1 (Fiesta Caliente) and Session 2 (ESCAP3 at ABOVE), with 2 events running from 5pm 'til late.
SESSION 2: Fiesta Caliente @ Te Quiero Mucho Southside 5-11PM
Fiesta like there's no manana as we bring the heat to Wong Chuk Hang.
Hong Kong's favourite Mexican eatery welcomes a Southside sibling – Te Quiero Mucho Taqueria. With Mexican nibbles and tipples throughout the afternoon and free flowing signature tacos and margaritas in the evening, we've got y'all hungry muchachos and thirsty borrachos covered.
- 5-7PM – Mexican Snack Buffet
- 7:30-9PM – Free Flow Tacos
- 5-11PM – Free Flow Margaritas, Frozen Pina Coladas, Kozel Lager, Corona, and Wines
SESSION 3: ESCAP3 @ ABOVE 7-11PM
Escape the city. Escape the ordinary. Escape gravity – ESCAP3 @ ABOVE
Sip on bubbles, soak up the panoramic sunset views, and say goodbye to the summer sun at the Southside's hottest rooftop bar. ABOVE pumps epic DJ beats, with sexy live tunes by saxophonist, Josh Onyx.
- Free flow Mumm champagne and ABOVE's Signature Negronis
- Free flow Pilsner Urquell, Wines, and Canapes
- Canapes from 9PM
BOOZE & SNOOZE: Night Package + A Room at Ovolo Southside
The ultimate ESCAP3 – a boozy staycation package at Southside for ONE NIGHT ONLY. Party all night and when you're ready to snooze your comfy bed is just an elevator ride away. Plus your stay includes all the Ovolo goodies – free breakfast, superspeed WIFI, social hour, free in-room mini bar and all day snacks.
T&Cs
The package is subject to availability and is non-transferable and non refundable

Includes Ovolo FREEBIES – continental breakfast, Wi-Fi, mini bar, happy hour and more. More information on www.ovolohotels.com

In case of dispute, Ovolo Hotels reserves the right of final decision on the interpretation of these Terms and Conditions
DAY PACKAGE: GARDEN PARTY
- ADULT $448/CHILD $198 (3-11years)
NIGHT PACAKGE: FIESTA CALIENTE & ESCAP3 @ ABOVE
- EARLY BIRD $550 until 8/31
- ADVANCED $650
- AT THE DOOR $750 (package) / $100 (one drink inclusive)
Event Host
Ovolo Group Limited
You already have an order in progress. Would you like to cancel the previous order and start again, or would you prefer to return to the previous order instead?
It seems you already have an order in-progress. Please finish or cancel your existing order before starting a new order.
Cancelling previous order...
Your order is already cancelled.