Show Taxi
FLY
G/F, 24-30 Ice House Street, Central, Hong Kong, Hong Kong
FLY
中環雪廠街 24-30 號地下, 香港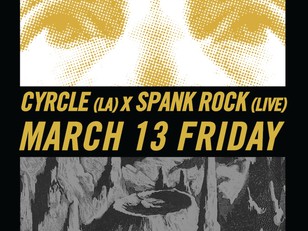 FOB + Above Second Gallery Presents | CYRCLE (LA) x Spank Rock (Big Dada/Downtown Records)
Event Details

Show more
More Details
"In spirit of Art Basel weekend, on the 13th of March, FOB and Above Second have combined two elements of art to forge a night of creative urban insight at FLY. The street artist CYRCLE will be taking his art form from the streets into the club. The rapper Spank Rock will perform live and bring the underground hip hop and dirty rap to the dance floor.

From 8-11pm, the doors will be closed to RSVP guests only, where CYRCLE, the famous LA street artists, will be unveiling a mural painted on one of the walls within FLY. After 11pm the doors will open to public to view the piece and Spank Rocks performance.



CYRCLE is a two-man collective of multidisciplinary artists born out of Los Angeles, California in 2010. Their work focuses on life, duality, and the human condition. Those concepts, combined with the aesthetic consideration of form, typeface, colour and balance are what creates their signature style. Refusing to constrain themselves to a particular definition- street artists, graphic designers, traditional fine artists- the collective is interested in what the function and form of the work itself demands. Through street campaigns, design, fine art, murals, and collaborations, their work blurs the lines within the contemporary art world. CRYCLE reveals complex ideologies in their simplest forms.

FB: https://www.facebook.com/CYRCLEBRAND Website: http://www.cyrcle.com/

Spank Rock Official never wanted to be a rapper. All of his heroes are badass guitar-fondling queers who sing songs about incest, aliens, faith and love, but rap was his fate. Naeem Juwan came of age in West Balitmore during the Enlightenment of hip hop, and his bizarre hometown deranged his perception of life for good.

After permanently relocating to sister slum Philadelphia, Spank Rock released his debut album YoYoYoYoYo (2006), on U.K. label Big Dada, and it became a cult classic. Spank Rock's music reeks of freedom. His concept EP Bangers & Cash (2008), produced by fledgling pop producer Benny Blanco, paid homage to freedom fighter Uncle Luther Campbell and 2 Live Crew.

While Juwan was in the middle of recording his second full-length he faced some reservations from his label, delaying the process. Ultimately, after regaining rights to the masters, he released it on his own Bad Blood Records in 2011. The result, Everything Is Boring and Everyone Is a Fucking Liar, found him teaming up with producer Boyz Noise, as well as Santigold, Big Freedia, and Pharrell Williams.

FB: https://www.facebook.com/spankrockofficial Soundcloud: https://soundcloud.com/spankrock

Supporting the night we have the ultimate FLY Resident DJs to insure we have a seductive build up and smooth come down.



Early Bird: $150 Advanced: $200



Supported by Red Bull Music Academy http://www.redbullmusicacademy.com/



-----------------------------------------------



For table bookings and enquiries: G/F, 24-30 Ice House Street, Central, Hong Kong party@clubfly.com.hk | 2810 9902 | Instagram: Fly_hk"
Event Host
Fresh Off The Boat Asia
You already have an order in progress. Would you like to cancel the previous order and start again, or would you prefer to return to the previous order instead?
It seems you already have an order in-progress. Please finish or cancel your existing order before starting a new order.
Cancelling previous order...
Your order is already cancelled.