Show Taxi
The Live House
B/F 731 Nathan Road, Mong Kok, Hong Kong, Hong Kong
The Live House
旺角彌敦道 731 號地庫, 香港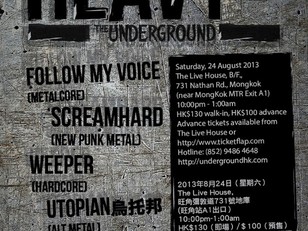 Underground Heavy #9
Follow My Voice, ScreamHard, Weeper, Utopian
More Details
Come one come all, 'cause it's going to be a free-for-all…of some terrific local heavy music. That's right, The Underground's Heavy showcase is back on August 24! And just to show how much we've missed you, we've got four cracking bands raring to go. We begin with some good ol' metalcore by Follow My Voice, followed by ScreamHard with a mélange of punk and metal. Weeper, with their hardcore-on-speed style, follow, and the Nu/alternative metal of Utopian closes out the show. It's a terrific line-up and the show can only be made better if YOU come down to join in the fun… So mark your calendars and get into heavy metal mode… imminent headbanging ahead!
Event Host
The Underground
You already have an order in progress. Would you like to cancel the previous order and start again, or would you prefer to return to the previous order instead?
It seems you already have an order in-progress. Please finish or cancel your existing order before starting a new order.
Cancelling previous order...
Your order is already cancelled.