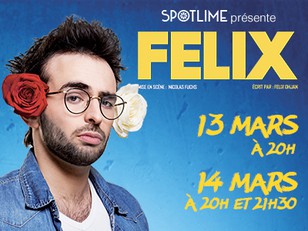 Félix dans "Porteur de joie" - 13 & 14 mars
More Details
Percutant, déjanté, acide, énergique, satirique, … une plume acérée !
Félix traficote les mots, manie l'absurde, pointe du doigt avec satire, s'attire les rires par ses mimiques et ses textes épineux. Son spectacle accueille un concentré de personnages acérés à la vanne acidulée qui pique sous la langue, le tout boosté par une énergie contagieuse.
Félix s'est donné pour mission d'apporter LA JOIE, reste à savoir par quel moyen !
SPECTACLE DU FESTIVAL OFF D'AVIGNON 2017 !
Biographie
Né en l'an de grâce 1991 après J.C, c'est dès l'adolescence que Félix se livre à l'art du One man show, plus particulièrement durant ses cours de Maths.
Après trois années de formation au Cours Simon, il crée son premier spectacle " Qu'est ce qu'on fout là ? ".
Après avoir rodé PORTEUR DE JOIE ", son nouveau spectacle, en mai et juin à Paris à la Comédie des 3 Bornes puis au festival d'Avignon en juillet, on retrouvera Félix à Paris au théâtre du Marais tous les samedis à 19H00 à partir du 16 septembre, et en tournée.
Félix est membre de " CACTUS COMEDY ", la troupe de la nouvelle génération de l'Humour qui pique.
Il a fait les premières parties de Jarry, Guillaume Meurice ou Bruno Salomone.
Il a remporté plusieurs prix dans des festival d'humour en France dont celui du Public en juin 2017 au 20ème Dinard Comedy Festival et celui du jury au M-Rire Festival de Marseille.
Ne ratez pas Félix dans " Porteur de joie " les 13 et 14 mars au McAulay Studio du Hong Kong Arts Center !
Cet évènement est soutenu par le Consulat Général de France à Hong Kong et Macao, l'Alliance Française de Hong Kong, et l'UFE Hong Kong.
Informations pratiques
Dates :
- 13 mars 2018 à 20h
- 14 mars 2018 à 20h et 21h30
Lieu : Hong Kong Arts Center, McAulay Studio
Adresse : 2 Harbour Road, Wan Chai, Hong Kong
Tarif : 250 HKD en prévente jusqu'au 18 février 2018. Puis, 290 HKD en tarif normal.
Suivez l'actualité de l'humour francophone en Asie sur : https://www.facebook.com/spotlimeprod/
You already have an order in progress. Would you like to cancel the previous order and start again, or would you prefer to return to the previous order instead?
It seems you already have an order in-progress. Please finish or cancel your existing order before starting a new order.
Cancelling previous order...
Your order is already cancelled.