Show Taxi
Grappa's Cellar
Jardine House, 1 Connaught Place, Central, Hong Kong, Hong Kong
歌柏絲意大利餐廳
怡和大廈, 中環康樂廣場 1 號, 香港
The Haywood Sisters
Event Details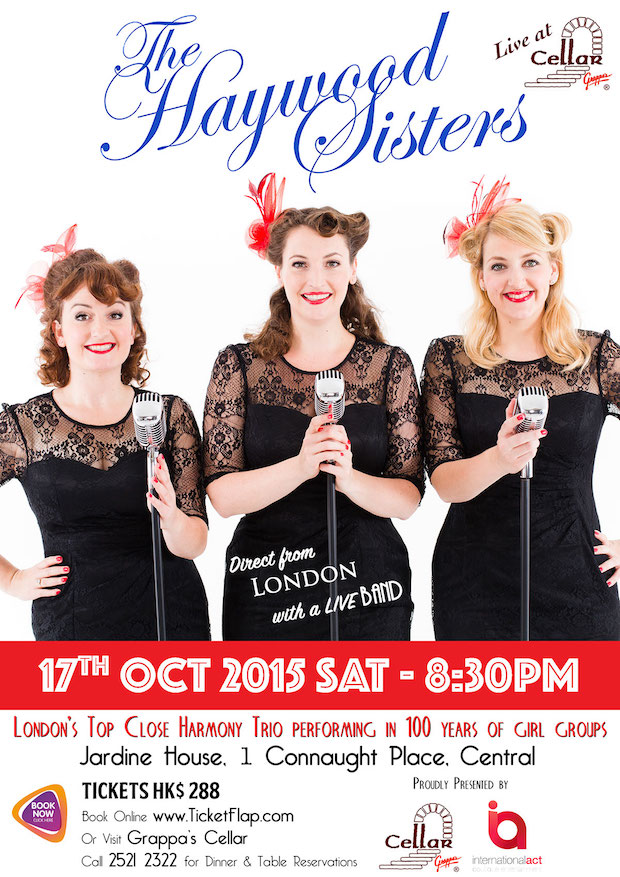 Show more
More Details
The Haywood Sisters - A Hundred Years of Sister Acts!

The Haywood Sisters are a retro style close harmony girl group from London, who have a passion for performing hits of sister groups from past to present. Spanning early Jazz, Swing, Wartime, Motown, and Pop.

This classy trio and their All Star Band bring you a fantastic evening of toe-tapping numbers, interwoven with interesting facts and stories about the history of girl groups.

They have performed at Ronnie Scott's, Wimbledon Stadium, The Park Lane Hilton and can be heard on BBC Radio and JazzFM. Don't miss their debut performance at Grappa's Cellar!

Book here and call the venue on 2521 2322 for Dinner and Table reservations.
Event Host
Grappa's Cellar
You already have an order in progress. Would you like to cancel the previous order and start again, or would you prefer to return to the previous order instead?
It seems you already have an order in-progress. Please finish or cancel your existing order before starting a new order.
Cancelling previous order...
Your order is already cancelled.