Show Taxi
Swish! Swimming
72 Loewen Road #01-08, Dempsey Hill, Singapore 248848, Singapore
HoneyKids Family FunDay presents The Endless Summer Party
27 Aug 2017 3-6pm
Event Details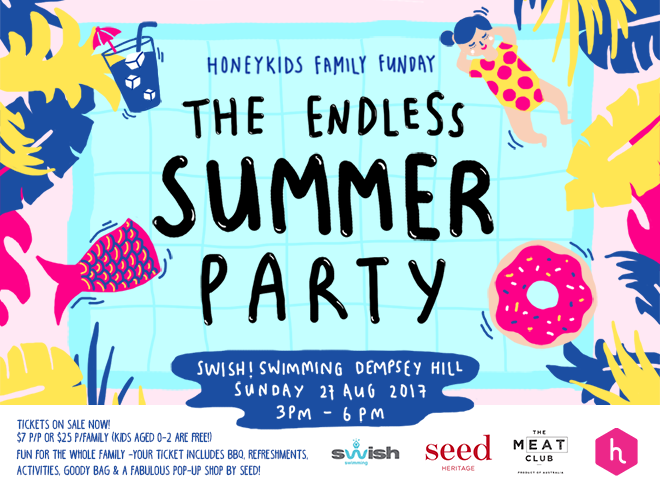 Show more
More Details
If you've lived in Singapore long enough, you know there's only one way to really take respite from the heat – to jump into the water and that is exactly what we are doing! Join HoneyKids for their first of a series of Family FunDay events (and to be honest, quite awesome) Endless Summer Party at Swish! Swimming. The whole family is invited & this event is especially perfect for kids aged 0-12.
Your ticket will include a BBQ thanks to The Meat Club, a free goody bag thanks to Seed + access to their onsite pop up shop with the latest kids swimming apparel (at great prices!), free organic & natural candy floss thanks to Angel Floss, plus activities from The Party Elves, Syrena - Singapore's First Mermaid and a Floating Cinema thanks to Swish!, Can you smell fun or what?!
And don't forget, although there is free parking at and around the venue, it is limited (and so are public transport options). The best way to access the venue is by taxi.
Event Host
The Honeycombers SG
You already have an order in progress. Would you like to cancel the previous order and start again, or would you prefer to return to the previous order instead?
It seems you already have an order in-progress. Please finish or cancel your existing order before starting a new order.
Cancelling previous order...
Your order is already cancelled.