Show Taxi
Various Community Venues
走進不同社區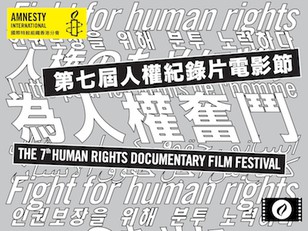 The 7th Human Rights Documentary Film Festival
Free Community Screening
More Details
The 7th Human Rights Documentary Film Festival
http://hrfilm.amnesty.org.hk
Amnesty International Hong Kong has been organizing the Human Rights Documentary Film Festival since 2011. The Festival is the first-ever film festival featuring human rights documentaries in Hong Kong. Film festival focusing on human rights must be boring? Not at all! The Human Rights Documentary Film Festival covers a wide range of human rights issues, while the selected documentaries include award-winning films in the Oscars and Berlin Film Festival and independent films from different countries.
This year, Free Community Screening films include: The Opposition, Out of Iraq, The Jangmadang Generation, Out Run, Fight For justice and Scarlet Road (Blindfolded Screening*).
Address
WC

Wang Chau Green Belt Concern Group

Wing Ning Tsuen Rest Garden, Wang Chau

HKS1

Hong Kong House of Stories (site 1)

7/F, St. James' Settlement, 85 Stone Nullah Lane, Wanchai, HK

HKS2

Hong Kong House of Stories (site 2)

Courtyard behind the Blue House, 8 King Sing Street, Wanchai

HKFA

Cinema, Hong Kong Film Archive

50 Lei King Rd, Sai Wan Ho, Hong Kong

HKCI

Hong Kong Christian Institute

10/f, 11 Mong Kok Road, Kowloon, Hong Kong

CACHe

The Conservancy Association Centre for Heritage

Annex Block, 36A Western Street, Sai Ying Pun
FILM INTRODUCTION:
The Opposition
Director: Hollie Fifer
2016 │ 80 mins
English│ Chinese accessible captions
A number of villagers confronted hundreds of police officers on Mother's Day in 2012. In this land dispute, the "wall made by the bodies of the villagers" were not strong enough to go against the gun and arms of the police, a situation Hong Kongers may be familiar with.
Nowadays, confrontations between civilians and police seem to happen more frequently all around the world. The conflict shown in The Opposition takes place in a temporary housing area inside Paga Hill, a residential area next to a harbor in Papua New Guinea. About 3,000 villagers were forced to leave their homes in the incident. Consequently, the Head of the Village confronted the tyranny via the judiciary. By doing so, it was hoped that it might prevent the village from being taken away by tycoons to build a five-star hotel. A war over land is soon to begin!
17/9 (Sun) 17:00 Wang Chau Green Belt Concern Group (WC)
1/11 (Wed) 19:30 Cinema, Hong Kong Film Archive (HKFA)
Out of Iraq
Director: Chris McKim, Eva Orner
2016│ 81 mins
English and Arabic│ English subtitles and Chinese accessible captions
A translator from the United States Army and an Iraqi solider fell in love in the time of war. However, their love invited death threats. Extremism has been prevailing in the Middle East region, where homosexuals are prosecuted.
The production team of Out of Iraq visited four countries to uncover their 13-year love story. The documentary also documents proof of threats, faced by a pair of homosexual lovers, imposed by an anti-homosexual authoritarian government. For this reason, the only way out for the lovers was to seek refuge and flee their homes. However, it took them a great deal of time in which the lovers had to go through a series of complicated administrative procedures reviewing and examining their conditions and refugee status. This documentary was screened in the United Nations High Commissioner for Refugees in mid-2016, showcasing the different kinds of difficulties and barriers haunting homosexual refugees.
9/10 (Mon) 19:30 Cinema, Hong Kong Film Archive (HKFA)
24/10 (Tue) 19:30 The Conservancy Association Centre for Heritage (CACHe)
The Jangmadang Generation
Director: Sokeel Park and Chad Vickery
2016│51 mins
Korean│English subtitles and Chinese accessible captions
Since the 1990s there have been a growing number of North Koreans engaged in the Jangmadang – North Korea's very own black markets. Central to this revolution are young North Koreans, known as the Jangmadang Generation, who smuggle in and sell fashion goods and commodities such as electronics, clothes, South Korean dramas, and even pornographic material. In the jangmadang ideas about western fashion, lifestyle, freedom of love and association, and even reflections on the government are proliferated.
The Jangmadang Generation delves into the lives of a new generation of young North Koreans who are creative, brave, and eager to carve out their own future under one of the most repressive regimes in the world. It is the first documentary to explore and study the Jangmadang Generation and the lives of the people who take part in this unsanctioned movement.
14/10 (Sat) 19:30 Hong Kong House of Stories (Site 1: 7/F, St. James' Settlement) (HKS1)
20/10 (Fri) 19:30 Hong Kong Christian Institute (HKCI)
Out Run
Director: S. Leo Chiang, Johnny Symons
2016│75 mins
English and Tagalog│English subtitles and Chinese accessible captions
Out Run closely examines the participation of the world's first LGBT political party – Ladlad, in Filipino politics. It was never an easy task for Bemz Benedito, a newcomer in politics, to become the first transgender congressman in the Congress of the Philippines, where the catholic alliance has gained power. Bemz, also the President of Ladlad, has formed an alliance with other groups of homosexual and transgender parties. The united front formed thus launching a campaign appealing to grassroots hairdressers and cosmetologists, while confronting the missionaries on the streets in the election. Will the underdog win the election on election day and earn a ticket to the Congress?
This film has recorded the energy of this LGBT party and their creative ways in challenging mainstream politics and pursuing their dreams via the election in the Philippines!
26/10 (Thu) 19:30 Hong Kong House of Stories (site 2) (HKS2)
8/11 (Wed) 19:30 Cinema, Hong Kong Film Archive (HKFA)
Fight For justice
Director: Su Che-Hsien
2016│95 mins
Mandarin│English and Chinese subtitles
Fight for justice introduces a number of importance cases in Taiwan since 2013, including the case of fatal mistreatment of Hung Chung-chiu, the case about the Legislative Yuan being occupied by a group of young people during the Sun Flower movement, and the Cheng Hsing-tse case, which was a miscarriage of justice. This film focuses on four human rights lawyers, who have defended the rights of the "nobodies" or the "unimportant." They are: CHIU Xian-Zhi, TSENG Wei-Kai, LIU Ji-Wei, and LI Xuan-Yi. SU Che-Hsien, the director of this documentary took 3 years to finish this production, and hopes that the public will finally look at the problems facing Taiwanese society, while encouraging more people to defend justice. The Golden Horse Award-winning director also hopes to reveal the truth and lead the audience to closely examine every social movement that has occurred in Taiwan history.
16/10 (Mon) 1930 Cinema, Hong Kong Film Archive (HKFA)
Blindfolded Screening*: Scarlet Road
Director: Catherine Scott
2011│70 mins
English│Chinese accessible captions
Over half of the clients of Rachel Wotton, a professional sex worker in Australia, were people with disabilities. Prostitution is not a criminalized act in Australia. There, people own the rights to sex and are recognized in the way that they should not be constrained because of the limitations of their bodies. The producers of Scarlet Road follow Rachel's lead in exploring the sex lives of people with disabilities, to rethink as well as reflect on the needs of sex workers and people with physical and mental disabilities. This documentary has received over 30 film awards, including the Audience Award at FIFO Tahiti and the Audience Choice-Best of the Fest Award in the 'Outside Looking In' category, San Francisco Sex Worker Film and Arts Festival, and full house during our screening in 2014.
This screening is audio description session: all will get blindfolded and experience the audio descriptions, welcome to bring your own blindfold if needed.
7/9 (Thu) 19:30 Cinema, Hong Kong Film Archive (HKFA)
*About Blindfolded Screening/visual description: the scenery would be described without overlapping with other sound effects or scripts, to let the visual impaired persons can understand the content even without seeing. Please note that for this screening, audience will have to be blindfolded, and unable to view the screen.
Event Host
Amnesty International Hong Kong
You already have an order in progress. Would you like to cancel the previous order and start again, or would you prefer to return to the previous order instead?
It seems you already have an order in-progress. Please finish or cancel your existing order before starting a new order.
Cancelling previous order...
Your order is already cancelled.