Show Taxi
This Town Needs
1/F, Ocean One, 6 Shung Shun Street, Yau Tong, Kowloon, Hong Kong, Hong Kong

崇信街6號Ocean One 一樓, 九龍油塘, 香港
OC2S x NEON LIT MUSIC proudly present - H ZETTRIO - Mysterious Superheroes Tour 2018 〜 SPECIAL STAGE
More Details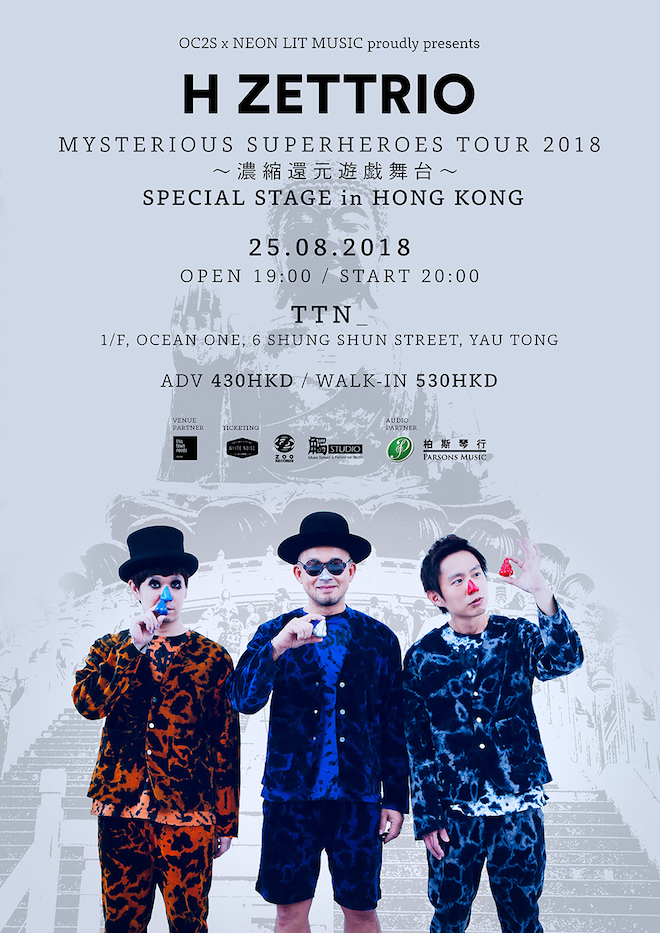 H ZETT M's unique & technical style called "zero-gravity playing" resonates with a keen sense of
originality and produces ensemble with sharp-rhythm sections by H ZETT NIRE (double bass/red nose)
& H ZETT KOU (drums/silver nose).These 3 guys remain loyal to outstanding music & groove anyone
else can't make.
After astonishing stage performance at "Montreux Jazz Festival 2014" in Switzerland, one of the
world's top 3 jazz festivals, this piano trio has acted at a large number of big festivals in Japan and
overseas. All 25 released singles so far hit first place in Jazz chart of iTunes. 3rdAlbum "PIANO
CRAZE" released on Sep 7, 2016 since they introduced 2nd one in November 2015.
In 2016, their music was used for the movie in Rio Olympic closing ceremony,Japanese Prime Minister
"Shinzo Abe" turned into "Mario."
In 2017, they released six titles of music in a row form April, and succeeded thirty-four concerts on
national tour. Also, they released the concept album"Christmas Songs of H ZETTRIO" at the first time.
In this year, they will publish much-awaited 4th album"Mysterious Superheroes" with two
version:"EXCITING FLIGHT Ver."and "DYNAMIC FLIGHT Ver." for the first time in one and half years.
"What's Next" which is used for the Commercial song of NEC note PC 「LAVIE Note NEXT」will be
recorded in two version of album, and "Playin' Swingin' !!! H ZETTRIO!!! " which is used for PS4®
Lineup Music Video (instrumental ver.) will be recorded in "EXCITING FLIGHT Ver."
Speculation is rife over H ZETT M (piano/blue nose); he might be Masayuki Hiizumi (ex. PE'Z), and
also HZM (keyboards/piano) of original member of "Tokyo Incidents", a band led by Ringo Sheena
(singer/songwriter). Though his answer is always in a blur.
You already have an order in progress. Would you like to cancel the previous order and start again, or would you prefer to return to the previous order instead?
It seems you already have an order in-progress. Please finish or cancel your existing order before starting a new order.
Cancelling previous order...
Your order is already cancelled.