Show Taxi
30 Gallery Locations in Central, Sheung Wan and Sai Ying Pun
I Will Not Be Silenced
Human Rights in the World
Event Details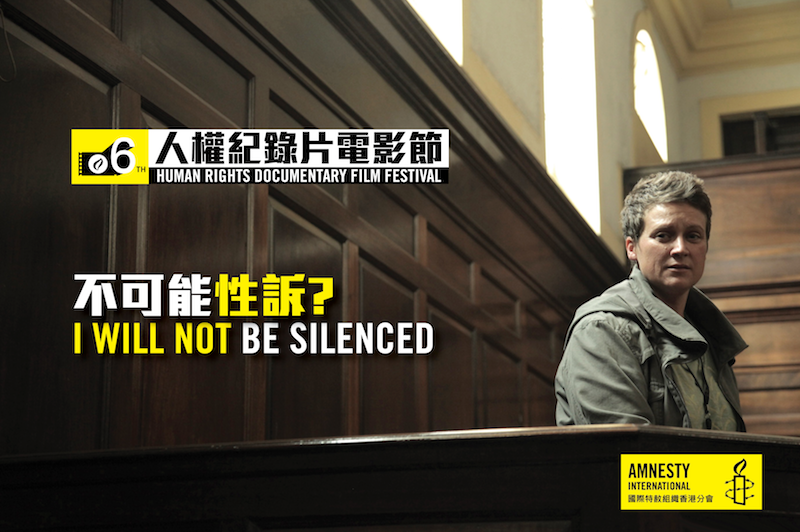 Show more
More Details
#HRDFF2016
I Will Not Be Silenced
Director: Judy Rymer‧2015‧English‧84mins‧Chinese subtitles
One young Australian woman, Charlotte Campbell Stephen's horrific gang rape has led to a seven-year battle for justice with the Kenyan legal system culminating in a highly publicized court case. Rape victims rarely report rapes and do not testify against their attackers in Kenya because they fear for their lives.
Her indomitable strength had brought many silenced women out of the dark to stand at her side. Charlotte's case is a test case for the women of Kenya and the reformers in the Kenyan legal system.
免費放映時間
Free Screening Schedule
24/9 六 Sat 14:30 AAF *
6/10 四 Thu 19:30 WECONs *
24/11 四 Thu 19:30 HKS *
* 嘉賓將出席映後座談會 Post-screening discussion with guest
免費社區放映地址
Address for free screening in the Community
AAF | 新婦女協進會 | The Association for the Advancement of Feminism
九龍長沙灣李鄭屋邨禮讓樓地下
G/F, No. 120, Lai Yeung House, Lei Cheng Uk Estate, Kowloon
HKS | 香港故事館 | Hong Kong House of Stories
藍屋後空地 (不設座位,可席地而坐或自備座墊/凳仔)
香港灣仔景星街8號
Courtyard behind the Blue House (No seats, you may bring your sitting mat)
8 King Sing Street, WanChai
WECONs | 天經地義生活館
九龍太子道西204號 1 樓
No. 204 Prince Edward Rd W, Mong Kok
<入場時請出示確認電郵 Please show the confirmation email at the entrance>
*******************
電影節官方網址: http://hrfilm.amnesty.org.hk/
HRDFF Official Website: http://hrfilm.amnesty.org.hk/
[before 免費放映時間]
****************
Recap the 4 links:
http://www.ticketflap.com/zh/art-as-a-weapon
http://www.ticketflap.com/zh/i-will-not-be-silenced
http://www.ticketflap.com/zh/at-home-in-the-world
Event Host
Amnesty International Hong Kong
You already have an order in progress. Would you like to cancel the previous order and start again, or would you prefer to return to the previous order instead?
It seems you already have an order in-progress. Please finish or cancel your existing order before starting a new order.
Cancelling previous order...
Your order is already cancelled.