Show Taxi
CÉ LA VI HONG KONG
25/F, California Tower, 30-36 D'Aguilar Street, Central, Hong Kong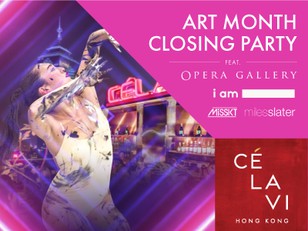 I AM CÉ LA VI - Art Month Closing Party
More Details
Hosting a finale to conclude all Hong Kong art celebrations, join us for Art Month Closing Party. Featuring an eclectic solo live art performance by dance alchemy production group I AM Concepts.
Artistic Director of Asia, Siobhan Maire Dumigan will take you on a unique artistic journey through dance and paint. We welcome you to be immersed in this fearless exploration of creativity.
$250 per person, inclusive of 1 glass of Veuve Clicquot Champagne.
#clvhk #artmonth #clubnight #celavihongkong #iamcelavi
Event Host
CÉ LA VI HONG KONG
You already have an order in progress. Would you like to cancel the previous order and start again, or would you prefer to return to the previous order instead?
It seems you already have an order in-progress. Please finish or cancel your existing order before starting a new order.
Cancelling previous order...
Your order is already cancelled.