Show Taxi
The Aftermath
Lower ground floor, Sunny Building, 57-59 Wyndham St, Central, Hong Kong
inDERPendence day
LaughterLaughs @ the Aftermath 3
Event Details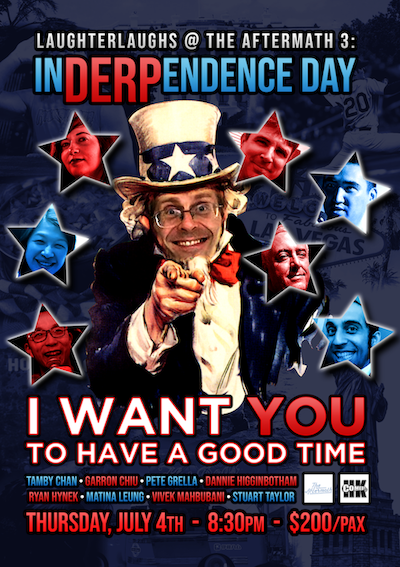 Show more
More Details
While the president's hard at work keeping our borders safe by putting Mexicans in concentration camps, you can "concentrate" on some "campy" live entertainment!
Come celebrate America's 243rd birthday with a star-studded lineup of the best American comedians in Hong Kong, alongside some model minorities. Ask not what your comedy can do for you; ask what you can do for your comedy!
$200 includes 1 free at last, free at last, standard drink
#comedy #lkf #jokes #standupcomedy #comedyhk
You already have an order in progress. Would you like to cancel the previous order and start again, or would you prefer to return to the previous order instead?
It seems you already have an order in-progress. Please finish or cancel your existing order before starting a new order.
Cancelling previous order...
Your order is already cancelled.