Show Taxi
MacPherson Stadium
38 Nelson Street, Mongkok, Hong Kong, Hong Kong
麥花臣場館
香港九龍旺角奶路臣街38號, 香港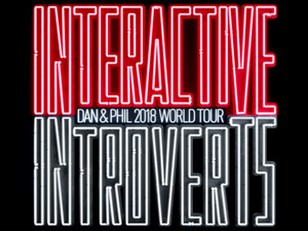 Dan & Phil 2018 World Tour - Interactive Introverts
Iconic Youtube Duo Dan & Phil to perform in Hong Kong!
Event Details
ALL VIP Tickets sold out!
*Please see below for VIP Meet Up Info

Iconic Youtube duo, DAN AND PHIL will be bringing their global 'Interactive Introverts' tour to Hong Kong on September 18 at Macpherson Stadium!
Dan and Phil are proud to present their new stage show - Interactive Introverts. Two internet dwelling, insecure nerds standing under the spotlight to give the people what they want: an epic interactive experience of rants, roasts, battles, stories...and surprises that will make you laugh, cry, cringe and puts the audience in control unlike anything before!
Show more
More Details
VIP Meet Up Ticket Info:
Each show has a limited allocation of VIP tickets. A VIP ticket gives you one the best seats for the show, access to a meet-up with Dan and Phil and exclusive gifts.

VIPs should please arrive 3.5 hours before the listed start of the show. You will be wristbanded by a member of the production team and shown to the meet-up area. All VIPs will meet Dan and Phil and have the opportunity to have one item signed and to take a selfie. Please be aware that there will not be a professional photographer on site, so if you would like a photo, please bring your own camera or phone - also make sure it's charged and with enough storage! After you have met Dan and Phil you will be given a gift bag including exclusive VIP tour merchandise, then your wristband will be removed and kept by the production team. VIP meet-up areas will vary from venue to venue, but where possible a large enough room will be provided in which after meeting Dan and Phil, VIPs can hang out with other, sign the guest book and listen to a special playlist curated by Dan and Phil. VIPs also get the best seats in the venue to watch the show – usually the front few rows closest to the stage.

*Please do not bring any gifts for Dan or Phil because unfortunately they will not be able to transport them home while on tour. Small letters and art are fine. There will be many ways to participate in the show however! Do note: you can only gain access to the meet-up with a VIP Meet Up ticket.
About DAN & PHIL:
Daniel Howell and Phil Lester are two of the world's biggest YouTube stars. From producing their own comedy videos, they have gone on to present a Radio Academy Award winning show for BBC Radio 1, host international coverage of the BRIT Awards, release an app game 'The 7 Second Challenge' which reached #1 on the iTunes store, and in 2017 the hit board game 'Truth Bombs'. They also proudly support charitable organisations such as Young Minds, Stand Up To Cancer and the British Red Cross.
In March 2015, Dan and Phil launched their debut book "The Amazing Book Is Not On Fire" and accompanying 75-date International tour "The Amazing Tour Is Not On Fire". The book went to #1 on The Sunday Times and New York Times Bestseller lists and the tour became the biggest world tour ever undertaken by YouTube creators ..until now.
Event Host
LA Comedy Live
You already have an order in progress. Would you like to cancel the previous order and start again, or would you prefer to return to the previous order instead?
It seems you already have an order in-progress. Please finish or cancel your existing order before starting a new order.
Cancelling previous order...
Your order is already cancelled.