Show Taxi
The Fringe Club
2 Lower Albert Road, Central, Hong Kong, Hong Kong
藝穗會
下亞厘畢道2號, 中環, 香港
Jazz AGE Party @ The Fringe
More Details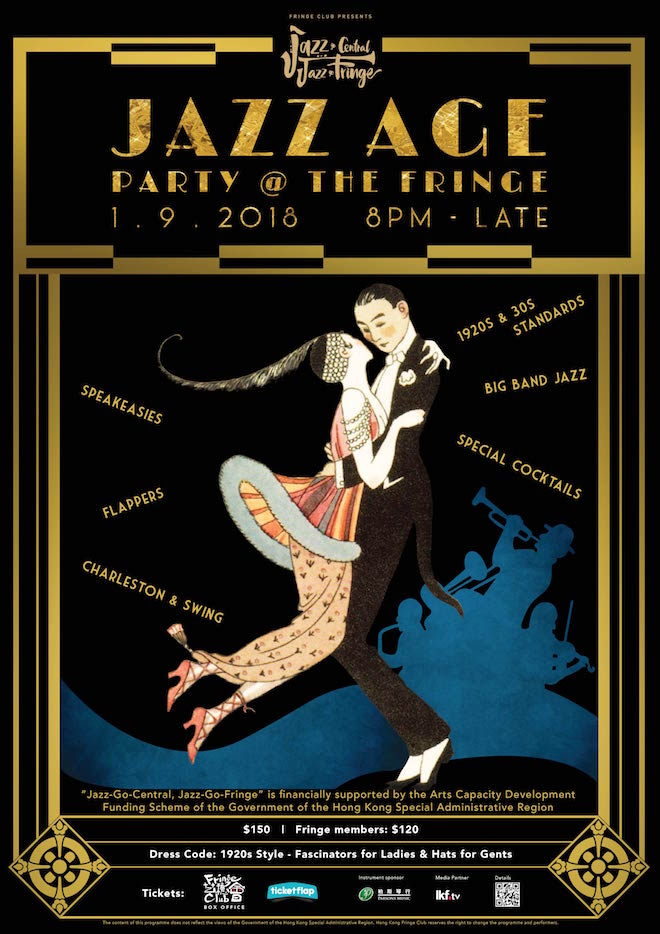 JAZZ AGE PARTY
The spotlight event of "Jazz-Go-Central, Jazz-Go-Fringe"
"Tender is the night. The air, a soft light wine.
Lace up those dancing shoes. Let's get lost."
Theme: Roaring 20's
Music: Big Band Jazz, 1920s & 30s Standards
Dance: Swing & Charleston
Drinks: 1920s Cocktails
Dress code:
Ladies - Bangles & Beads, Fringes & Fascinators
Gents - Hats (Panama or Fedora) & Dancing Shoes
Featuring:
Saturday Night Jazz Orchestra
The 5422 Collective
Taka Little Big Band
HK Street Brass
Hong Kong Swings
and more…
Flappers Lounge @ G/F Anita Chan Lai-ling Gallery (main entrance)
The Jazz Age was a time of change in America in the 1920s and 1930s. The young woman shocked the older generation with bobbing hair, wearing short skirts, drinking, smoking, listening to Jazz etc. This new style of young women was known as "Flappers'.
Our Gallery will be turned into "Flappers Lounge" where photobooth and games stall are prepared. Come as a glamorous "Flappers" with bangles and beads, fringes and fascinators for ladies; panama or fedora hats and dancing shoes for gents.
8:40pm | 10:40pm HK Street Brass

Speakeasy @ G/F Underground Theatre
During the Prohibition era, the sale, manufacture and transportation of alcohol was illegal throughout America. Speakeasy, an illicit establishment that sells alcoholic beverages, was developed rapidly. They created an environment where different classes could all drink and socialize together.
To reproduce speakeasy culture, the Underground Theatre will be transformed to a speakeasy. Audience need to say a password to the bar tenders in order to buy a special cocktail served in tea cups.
8pm | 9pm | 10pm Taka Little Big Band
Jazzbaret @ G/F Fringe Dairy
One of the best live houses in town, Fringe Dairy, will be transformed into "Jazzbaret" for jazz lovers to gather and celebrate. Local big band The 5422 Collective, led by Patrick Lui, will play original tunes with modern works coincide with the old days and historical space, giving new energy to the new jazz age. The well-known Saturday Night Jazz Orchestra led by Taka Hirohama will play Charleston Dance Music and Swing Music, joined by the dancers from Hong Kong Swings leading the audience to "swing"!
8:30pm | 9:30pm The 5422 Collective
10:30pm | 11:15pm Saturday Night Jazz Orchestra + Hong Kong Swings

The Hidden Booze Room @ 2/F Colette's Artbar
A place for relaxation and chit-chatting with friends - proceed to the 2nd floor Colette's Artbar to enjoy 1920s special cocktails. No admission fee required at this venue.
9:40pm HK Street Brass
Remarks:
Cash bar will be opened during event.
Admission will be started 30 minutes before event time.
Please present the printed tickets/ e-tickets for admission at the door.
*Fringe Club membership card MUST be presented at the door.
"Jazz-Go-Central, Jazz-Go-Fringe" is financially supported by the Arts Capacity Development Funding Scheme of the Government of the Hong Kong Special Administrative Region
The content of this programme does not reflect the views of the Government of the Hong Kong Special Administrative Region
Hong Kong Fringe Club reserves the right to change the programme and performers
Enquiries:
Fringe Club (852) 2521 7251
jazz@hkfringeclub.com
Event Host
Hong Kong Fringe Club
You already have an order in progress. Would you like to cancel the previous order and start again, or would you prefer to return to the previous order instead?
It seems you already have an order in-progress. Please finish or cancel your existing order before starting a new order.
Cancelling previous order...
Your order is already cancelled.