Show Taxi
Treasure Island
Pui O Beach, Lantau Island, Hong Kong, Hong Kong
Jazz On The Beach 2018
www.jazzonthebeachhk.com
More Details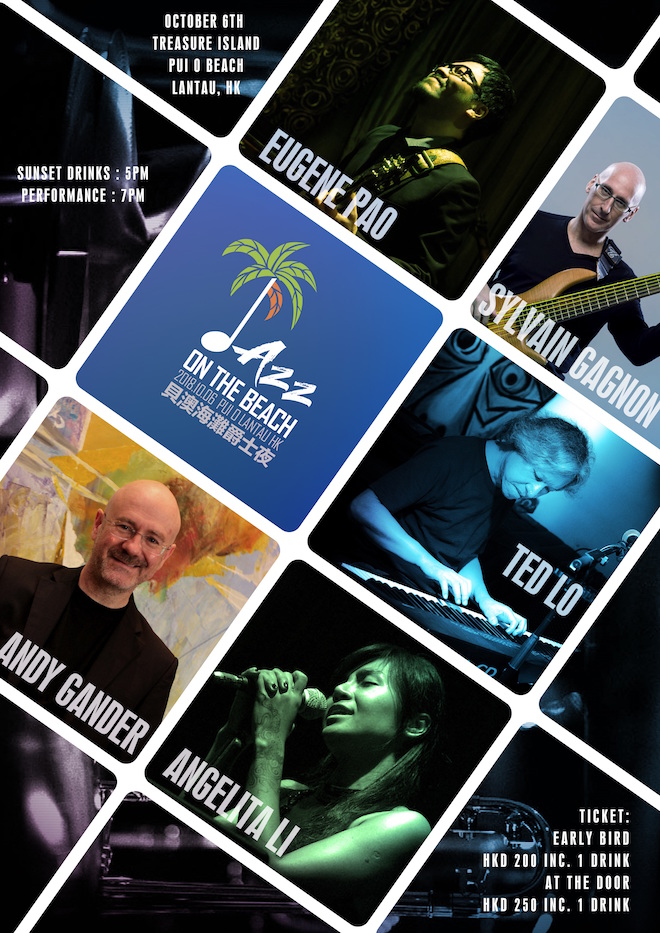 Come experience Hong Kong's first jazz experience on the beach. At sunset, enjoy a smooth cocktail from Treasure Island Beach Restaurant, and watch the stars appear while you wait for a magical evening to begin.
We are honored to feature Hong Kong's very best jazz musicians, to help make this night a unique and unforgettable one. They are Ted Lo, Eugene Pao, Sylvain Gagnon, Andy Gander and Angelita Li. Every single one a star performer in their own right, doing their part to continue Hong Kong's prized jazz traditions.
Treasure Island (formerly Mavericks), is the perfect venue for our concert, with a beach-inspired menu of gourmet salads, steaks, sliders and wings, coupled with an extensive bar menu headlined by Moonzen on tap, Hong Kong's own homegrown brew.
Hong Kong is a modern metropolis blessed with many islands, each with a distinct culture that attracts people from all over the world, who come for their beautiful beaches, local traditions, and sunny climate. Hong Kong is also Asia's leading city for Jazz, with a long history of illustrious events and festivals that attract the world's best jazz musicians.
Combine the two and you'll understand our mission to host Hong Kong's first Jazz event on the beach, on the pristine sands of Pui O on Lantau Island.
Don't miss this magical experience on the beach!
Event Host
EJTDesign Associates Limited
You already have an order in progress. Would you like to cancel the previous order and start again, or would you prefer to return to the previous order instead?
It seems you already have an order in-progress. Please finish or cancel your existing order before starting a new order.
Cancelling previous order...
Your order is already cancelled.