Show Taxi
Southorn Stadium
111 Johnston Road, , Wanchai, Hong Kong
修頓場館
莊士敦道111號地下 , 灣仔, 香港
JUST MMA Hong Kong 3
Event Details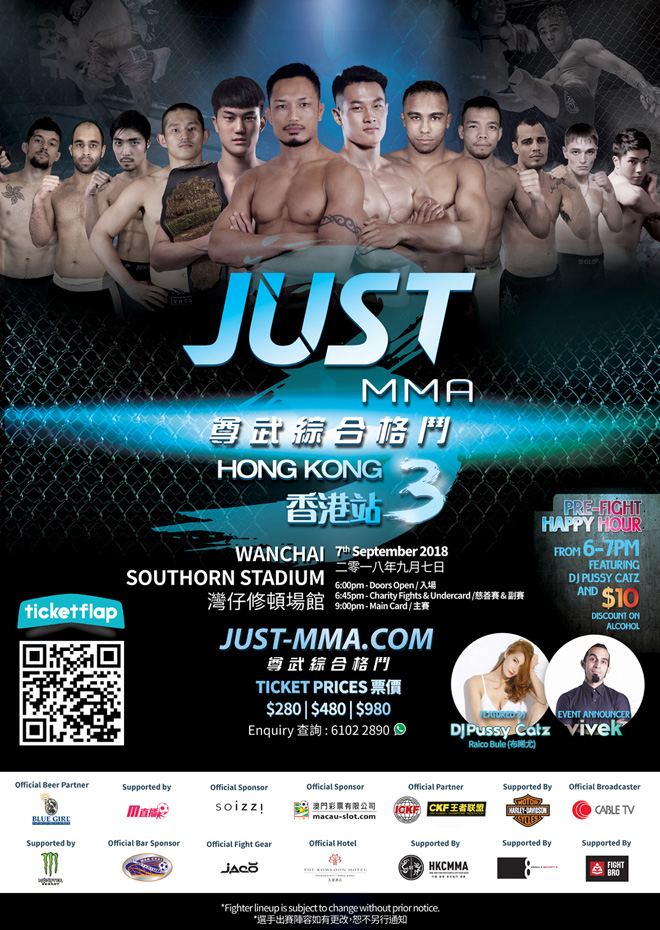 On September 7, 2018, Hong Kong's top mixed martial artists will gather in front of the Hong Kong crowd as Hong Kong's most exciting Mixed Martial Arts Promotion JUST MMA returns to Wan Chai Southorn Stadium with JUST MMA – Hong Kong 3!
Continuing with the strong momentum from previous four shows, JUST MMA – Hong Kong 3 will feature some of standouts from the previous shows, as well as continuing with a strong lineup of local Hong Kong MMA stars going against the up and rising talents around the world such as Brazil, Singapore, Korea, Malaysia, Philippines, China, Ukraine, Russia, Kazakhstan and more. The September line up will feature 12 bouts, from amateur to professional levels, with local and international athletes showcase their skills and determination in front of the live Hong Kong audience.
JUST MMA – Hong Kong 3's main card will feature Hong Kong's MMA pioneer Kenny Yeung going against the Chinese rising star A He Jiang in a lightweight showdown, while the previous JUST Macauslot Flyweight Tournament Champion Bak Tae Ho will return to the cage to go against the dangerous Ítalo Freitas.
The evening will start off with two amateur bouts with the JUST For Good Charity Program, with 4 fighters readied themselves and raised money and awareness for charities of their choice. The night will continue with JUST MMA bring in some big boys into the cage with some welterweight matchups including clash between Nosh Khanzada (Pakistan ) and Guilherme Araujo (Brazil), and Andrey Bibikov (Kazakhstan) against An Kyeong Jun (Korea).
Also on the card will be MMA veterans such as Bernard Fung (Hong Kong), Max Leali (Hong Kong), Roberto Medella (Philippines), Zhang Guang Tong (China) and more! Don't miss your chance to support your favorite fighters live in Wan Chai Southorn Stadium on September 7th!
Doors open at 6:00pm, the charity bouts and undercard begins at 6:45pm, and the main card starts at 9pm. Stay tuned for more info, and follow us at: http://www.just-mma.com/event/just-mma-hong-kong-3/ and https://www.facebook.com/JUSTMMA.hk/!
For more information about corporate packages – please email info@just-mma.com
*Fight cards and seating plan subject to change without prior notice
**Limited wheelchair seat tickets available upon reservation, please email info@just-mma.com for more information.
Show more
More Details
Terms & Conditions /條款及細則
(1) One-person-one-ticket - One person per ticket regardless of age, subject to age limit specified for each event. / 每張門票只限一人, 幼童不論年齡亦須憑票入場(須合符個別活動所定的年齡限制)。
(2) Sold Tickets - Tickets sold are non-refundable and non-exchangeable. / 門票售出概不退換
(3) Smoking is prohibited inside the Stadium / 嚴禁在場內吸煙
(4) Photography, sound and video recordings are prohibited inside the Stadium / 請勿用閃光燈攝影、錄音及錄影 (特許人員除外)
(5) No outside food and drinks allowed to be brought into the Stadium / 請勿攜帶任何外來飲品或食品進場
(6) The ticket holder must comply with all regulations in the Stadium and the instructions by staff / 持票人須遵守張貼在場館內的所有規則及在場工作人員指示
(7) JUST Management Limited will not be responsible for any loss of ticket. / 尊武管理有限公司將不會負責及補發任何遺失門票。
(8) Booking Details on Tickets - A ticket-holder may be refused admission if any details on the ticket have been omitted or altered or if the ticket is damaged, defaced, or otherwise mutilated. / 門票上的資料 - 倘門票上的資料被刪去或經過塗改,又或門票遭損毀、污損或變得殘缺不全,則持票人可能不獲准入場。
(9) Changes of Programmes - The organizer/presenter of the event reserves the right to add, withdraw or substitute artists and/or vary advertised programmes, seating arrangements and audience capacity. / 節目更改 - 主辦單位保留更改節目安排、表演者、座位編排及容納觀眾的數目之權利。
Event Host
JUST Management Limited
You already have an order in progress. Would you like to cancel the previous order and start again, or would you prefer to return to the previous order instead?
It seems you already have an order in-progress. Please finish or cancel your existing order before starting a new order.
Cancelling previous order...
Your order is already cancelled.