Show Taxi
The Social Samui
14/22 Moo 5 Amphoe, Koh Sa-mui Thailand 84320, Thailand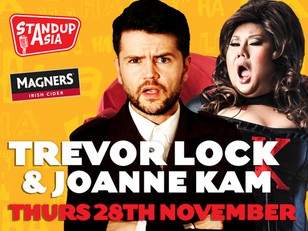 Live Comedy in Koh Samui - Trevor Lock (UK) ft. Joanne Kam (MAS)
Event Details
Show more
More Details
Standup Asia is proud to bring another rapturous night of live comedy to Koh Samui!
Featuring master of surreal comedy Trevor Lock and supported by Malaysian queen of comedy Joanne Kam, this one-night only show promises to be a visceral treat to the senses, tickling your funny bone and other nether regions.
At The Social Samui, tickets are 600THB for early birds and 800THB at the door!
TREVOR LOCK
"The Most fun you have without taking your clothes off!"
The Mirror
Known for his surreal flights of fancy, Trevor Lock is a veteran of the comedy scene with close to 20 years of experience. Having toured with legends Stewart Lee and Russell Brand, Trevor is known for his stream of consciousness comedy where he takes audiences on whimsical journeys of improvised absurdity. The Scotsman once described Trevor as 'funny, moving, and clever', with the Irishmen saying the same.
"Strangely charming and absolutely entertaining."
-The Independent
'Truly sublime stand up.'
London Lite
Besides writing for, directing, and acting in various UK television and radio projects, Trevor followed in the footsteps of the Dalai Lama, Stephen Fry, and Kermit the Frog in addressing the world famous Oxford Union, where he sought to disprove the oft-quoted 'I think, therefore I am' by pouring a glass of water over his head.
JOANNE KAM
"Vibrant, loud, fearless!"
-New Straits Times, Malaysia
Armed with a distinct style of acid tongue humour, Joanne's risque material covers everything from sexual misadventure to awkward encounters with rock climbing walls. With close to 30 years of experience in the business, Joanne commands the stage with "the moxie of someone who's eternally skulling Red Bulls".
"Joanne hits the sweet spot"
-The Straits Times, Singapore
Joanne Kam began her career in the 1990s at the infamous Boom Boom Room Kuala Lumpur, where she dived headfirst into nightclub management and show production with
nothing but her wit and tenacity.
"A seasoned duchess"
Trevor Lock (UK) Live in Koh Samui ft. Joanne Kam (MAS)
28th November 2019
Early Bird: 600 THB
At the Door: 800 THB
You already have an order in progress. Would you like to cancel the previous order and start again, or would you prefer to return to the previous order instead?
It seems you already have an order in-progress. Please finish or cancel your existing order before starting a new order.
Cancelling previous order...
Your order is already cancelled.