Show Taxi
Theatre de l'Alliance Francaise
1 sarkies road, Singapore 258130, Singapore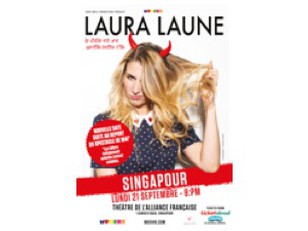 LAURA LAUNE 'Le diable est une gentille petite fille' - SINGAPORE
Event Details
Show more
More Details
LAURA LAUNE 'Le diable est une gentille petite fille'
'Gagnante de La France a un incroyable talent en 2017, l'humoriste belge Laura Laune emboîte le pas à son aînée Blanche Gardin. Avec candeur, la petite fille de 30 ans pratique un humour noir, cru, cash…
D'une comptine pour enfants qui part en vrille, à des personnages d'une folie d'apparence imperceptible, le spectacle vous réserve bien des surprises.
A l'abri sous ses airs de petite blondinette, l'humoriste belge a fait sensation en raflant tous les prix des festivals d'humour de ces deux dernières années et sa tournée affiche absolument 'COMPLET' partout.
Un spectacle à ne pas manquer….'
You already have an order in progress. Would you like to cancel the previous order and start again, or would you prefer to return to the previous order instead?
It seems you already have an order in-progress. Please finish or cancel your existing order before starting a new order.
Cancelling previous order...
Your order is already cancelled.