Something went wrong, please start again.
If you wish to change your selection, you will need to start the package again. Would you like to restart your select for all items in the package, or continue with the currently selected options?
Show Taxi
L'ÉCOLE, School of Jewelry Arts
510A, L5, K11 MUSEA, Victoria Dockside, 18 Salisbury Road, Tsim Sha Tsui
Please be aware that the system is unable to assign all the seats you have requested together in a single row.
L'ÉCOLE Open House – Diamond Discovery Tour
Event Details
L'ÉCOLE is back and so is our Open House event! We are delighted to invite you and your loved ones to join us on the journey to explore the world of jewelry arts. Under this year's curated theme of DIAMONDS, you will experience a series of taste-size courses under the pillars of art history, savoir-faire and gemology. Come and discover the legendary diamonds with our professional gemologist; take a journey back in time to immerse yourself in the great history of jewelry art, and watch as L'ÉCOLE jewelry experts demonstrate intricate craftsmanship right before your eyes at our campus at K11 MUSEA!
Coming with your little ones?
While you're on the 1-hour Diamond Discovery Tour, your kids can also enjoy activities at our workshop specially curated for young people. Pre-registration is compulsory for children aged 3 or above.
Register now and spend a sparkling Saturday basking in the natural wonders of diamonds with us!
Event Details:
Date: June 11, 2022 (Saturday)
Time: 12pm-7pm (Last session at 6pm)
Tour Duration: 1 Hour
*Diamond Discovery Tour is conducted in English supplemented by Cantonese.
*Free admission. Pre-registration is compulsory. Max. 8 guests per group due to social distancing measures.
*Please arrive at the School 10 minutes before the registered session.

L'ÉCOLE, School of Jewelry Arts Supported by Van Cleef & Arpels
510A, 5/F, K11 MUSEA, 18 Salisbury Road,
Tsim Sha Tsui, Kowloon, Hong Kong
Tel: +852 2653 0030
Email: hk.lecole@vancleefarpels.com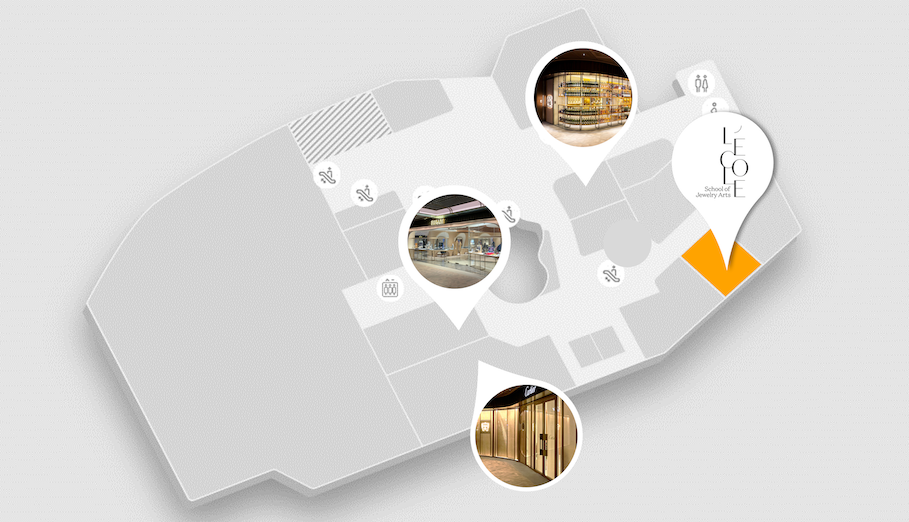 Show more
No available session(s) for the selected date. Kindly choose other date.
More Details
COVID-19 Measures(Updated on 31 May 2022):
To ensure your health and safety, please be aware of the following regulations:
・Every visitor must scan the LeaveHomeSafe QR code and show their vaccination record as a minimum requirement to enter L'ÉCOLE Asia Pacific.
・Visitors aged 12 or above are required to show Vaccine 2 doses of the vaccine if within 6 months from 2nd dose OR 3 doses if after 6 months from 2nd dose.
・Children under the age of 12 are exempted from presenting vaccination records.
・Visitors with medical exemptions are required to provide the COVID-19 vaccination medical exemption certificate.
・All visitors must wear a mask at all times. Surgical masks are recommended, valve masks are not allowed. Anyone without a face mask will be denied entry.
・If there is any inconsistency or ambiguity between the English version and the Chinese version, the English version shall prevail.
Notes on Photo-Taking:
Photos and/or videos will be taken during this event for L'ÉCOLE's communication on social media, as well as our internal archival purpose. If you do not wish to appear in our photos, please kindly let our team know and we'll arrange accordingly.
About L'ÉCOLE, School of Jewelry Arts
L'ÉCOLE, School of Jewelry Arts, was established in 2012 in Place Vendôme, Paris, with the support of High Jewelry Maison Van Cleef & Arpels and opened its second permanent location in K11 MUSEA, Hong Kong in November 2019. It is the first school in the world to invite everyone from the general public to connoisseurs to explore the world of jewelry arts. In addition to providing courses throughout the year at the permanent Paris and Hong Kong locations, L'ÉCOLE has expanded its educational programs worldwide with travelling editions featuring special courses, talks, publications and exhibitions in cities such as Tokyo, New York and Dubai. L'ÉCOLE carries several research projects and partnerships with museums and academic institutions, including Musée des Arts Décoratifs (Paris), The Comédie-Française Museum (Paris), École Boulle (Paris), École des MINES ParisTech (Paris), Liang Yi Museum (Hong Kong) and also Hong Kong Design Institute (Hong Kong). It also offers online educational videos and conversations, and a library specialized in jewelry arts.
You already have an order in progress. Would you like to cancel the previous order and start again, or would you prefer to return to the previous order instead?
It seems you already have an order in-progress. Please finish or cancel your existing order before starting a new order.
Cancelling previous order...

Your order is already cancelled.
Sorry, your session has expired.