Show Taxi
Mudita
24-30 Ice House St, Central, Hong Kong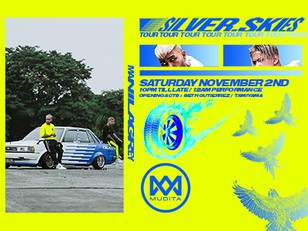 Mudita presents Manila Grey
Event Details
Show more
More Details
Bridging modern eastern aesthetics with atmospheric R&B sonics, MANILA GREY is a Canadian hip-hop/R&B duo from Vancouver, Canada.
The name "MANILA GREY" represents the duality of the duo being born in Manila then being raised in Vancouver, which is often described as a grey city given the frequency of the rain. Formed by childhood friends Soliven and Neeko who have been making music together along with Manila Grey's in-house producer azel north.
With over 30M streams in just over a year, the duo has quickly been recognized as the leaders of the new hip-hop and R&B wave coming out of the west coast and for the first time ever, will be perfoming LIVE in Hong Kong only at Mudita!
Catch the rap/R&B duo on the stage at Mudita on Saturday, 2nd of November.
Only a LIMITED number of Advance Tickets will be available. Get yours now and save!
---- EVENT DETAILS ----
Event: Mudita presents MANILA GREY
Date: Saturday, 2nd November 2019
Time: 22:00 Doors \ 12AM Performance

---- TICKETS ----
Advance - $300 (with 2 drinks)
At the Door - $400 (with 2 drinks)

For table bookings: info@mudita.hk | 2810 9902


MANILA GREY:
Official Website: https://manilagrey.com/
Facebook: https://www.facebook.com/manilagreymusic/
Instagram: https://www.instagram.com/manilagrey
Youtube: https://www.youtube.com/manilagrey
Spotify: https://open.spotify.com/artist/7KC9q5wx0bxMD5ABgLCoEd?si=NORbyVLYRy-54bAY-drh8Q
#manilagrey #hiphop #rnb #mudita #nightlife #liveconcert #artist
You already have an order in progress. Would you like to cancel the previous order and start again, or would you prefer to return to the previous order instead?
It seems you already have an order in-progress. Please finish or cancel your existing order before starting a new order.
Cancelling previous order...
Your order is already cancelled.