Show Taxi
KITEC Music Zone @ E-Max
Ground Floor, KITEC, 1 Trademart Drive, Kowloon Bay, Hong Kong

展貿徑1號九龍灣國際展貿中心地下, 九龍灣, 香港
Margaret Cho's 'Fresh Off The Bloat' Tour Hong Kong
Margaret Cho returns to Hong Kong
Event Details
*Mature content - For age 18 or above on date of performance only
Show more
More Details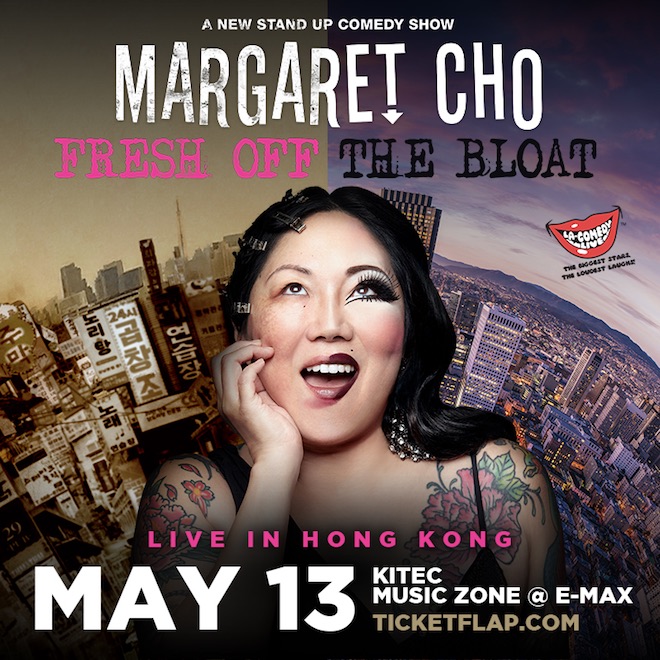 LA Comedy Live is thrilled to announce that Five-time Grammy and Emmy nominated comedian Margaret Cho will bring her brand new show, 'Fresh Off The Bloat' to Hong Kong on May 13, 2018 at Kitec Rotunda 3.
"Fresh Off The Bloat" is certainly Margaret Cho's sickest stand-up comedy show to date. A pioneer amongst women in comedy, Margaret doesn't take anything for granted as she continues to tackle difficult subjects with sensitivity and her razor sharp insight with her takes on addiction, abuse, activism and Asianness. It's all about the politics of disgust and what is disgusting about politics. Aptly titled, "Fresh Off The Bloat," Margaret says, ""Fresh Off The Bloat" is my sickest show to date. My grandmother said "You look like bloated as if you've been found dead in a lake after several days of searching." Koreans are the most savage of all the Asians. My new show is all about being fresh off drugs and drinking and suicide and coming back to life - finally fished out of the river Styx. It's meta. It's magical. It's me."
"Wildly Kinetic." – The New York Times
Margaret was named one of Rolling Stone magazine's 50 Best Stand-Up Comics of All Time and has received rave reviews for the initial shows with the Chicago Tribune saying "Be it on-screen ("30 Rock," "Drop Dead Diva") or on stage, Margaret Cho has been one of the most exciting, unpredictable stand-up comics working for some time, and that hasn't changed in 2018. If anything, the Asian-American female comedian's voice has become more valuable than ever, given today's social climate, and Cho's material remains just as compelling, thanks in part to—and sometimes in spite of—her unapologetic delivery."
Event Host
LA Comedy Live
You already have an order in progress. Would you like to cancel the previous order and start again, or would you prefer to return to the previous order instead?
It seems you already have an order in-progress. Please finish or cancel your existing order before starting a new order.
Cancelling previous order...
Your order is already cancelled.