Show Taxi
Virtual Event
, , , Hong Kong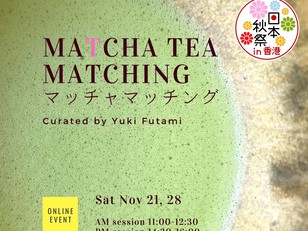 Matcha Tea Matching Online
Choose AM or PM session
Event Details
Show more
More Details
Ms. Yuki Futami, certified by the Nihoncha Instructor Association (Japan) as a Japanese tea instructor, has been practicing the Japanese way of tea (Chado) since 2009, and has been invited to perform tea demonstrations in Hong Kong. Media and related links:
https://bit.ly/2VsfORC
https://bit.ly/3dBkjzo
https://bit.ly/2ENcBle
https://www.instagram.com/yukifutami.tea
Yuki would like to invite you to a Matcha Tea Matching session on the two Saturdays of 2020/11/21 and 11/28. This online event aims to be a fun and interactive experience highlighting the diverse flavors of Matcha green tea.
The session will comprise three parts: (i) Yuki demonstrating key steps of preparing Matcha tea. (ii) Participants will then whisk and taste three different Matcha's one by one, making notes about the aroma, taste, and after taste of each. (iii) Finally, participants will whisk and taste the fourth Matcha, trying to guess which of the previous three this one is.
You will need: 1 tasting pack (included in ticket price), 1 Chasen (bamboo whisk), 4 tea/soup/café-au-lait bowls (each size about 300ml), a measuring cup, a mug cup, 1L hot water, and 1 large bowl (to discard excess water).
The session will be held in English and Japanese. Yuki can speak Mandarin and can understand Cantonese reasonably well.
Please note:
(1) Two sessions (11:00-12:30 and 14:30-16:00) will be held on 2020/11/21, and also on 2020/11/28. When buying a ticket, please choose one session on your chosen day. Maximum 10 participants per session. Please make sure you leave your email address or mobile phone no. when purchasing a ticket.
(2) Each ticket includes a tasting pack (4 sachets of Matcha tea powder, tasting sheet). Each participant will need a Chasen (bamboo whisk). If you would like to buy one from us (HK$100), you can add to the ticket at check-out.
(3) We will mail the tasting pack to you. Mailing will happen by post office closing time on Nov 16 or Nov 23 at the latest. If you buy a ticket after these dates, please pick up the pack from Admiralty on HK Island no later than two days prior to the event day (i.e. before Nov 19 or Nov 26).
You already have an order in progress. Would you like to cancel the previous order and start again, or would you prefer to return to the previous order instead?
It seems you already have an order in-progress. Please finish or cancel your existing order before starting a new order.
Cancelling previous order...
Your order is already cancelled.