Show Taxi
KITEC Music Zone @ E-Max
Ground Floor, KITEC, 1 Trademart Drive, Kowloon Bay, Hong Kong

展貿徑1號九龍灣國際展貿中心地下, 九龍灣, 香港
YourMum presents: Mew, Live in Hong Kong
For fans of: Sigur Rós, Muse, Slowdive, Mercury Rev, REM
Event Details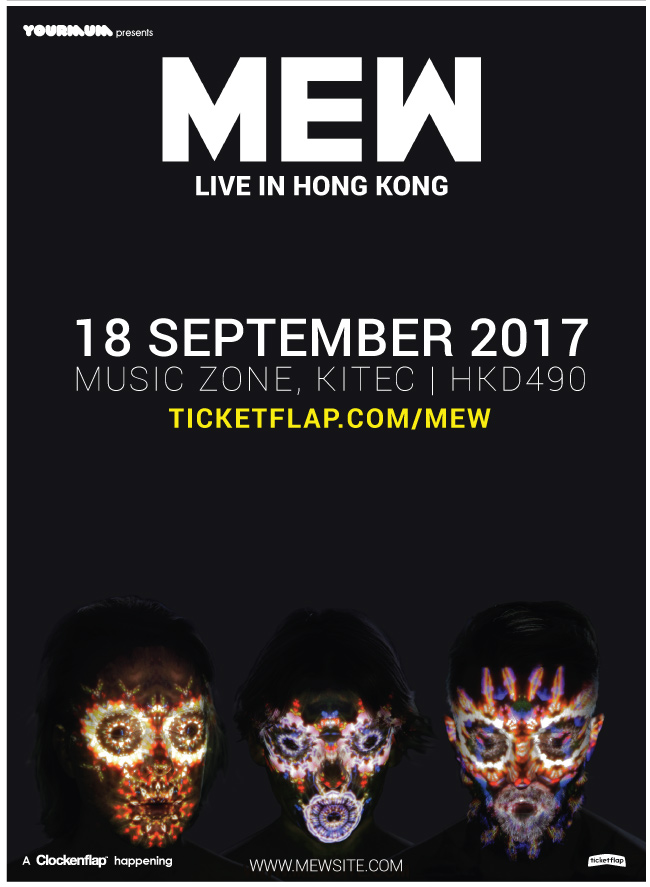 Show more
More Details
Show times:
19:30 Doors open
19:45 Kevin Kaho Tsui
20:45 Mew
Following on from their sold out HK performance in 2013, YourMum is delighted to announce that Danish art rockers, Mew, return to Hong Kong to play KITEC MusicZone on 18th September.
With a career that has spanned over two decades, there's no band quite like Mew. From their 1997 debut 'A Triumph For Man', through their global commercial success 'Frengers' in 2003 and beyond, Mew have established themselves as firm local favourites. Their grandiose, dream pop striking a chord with fans across the city. Touring in support of their seventh LP 'Visuals' released in April, the LP is their most accessible and concise in recent memory. Cohesive and cinematic, Mew's trademark epic soundscapes, soaring choruses and pop sensibilities are ever present. "Indie stadium" is how the band describe their music, and that sounds spot on to us.
Touring with a full band and visual show, don't miss this always inventive, always moving band in the best environment to experience their magic.
You already have an order in progress. Would you like to cancel the previous order and start again, or would you prefer to return to the previous order instead?
It seems you already have an order in-progress. Please finish or cancel your existing order before starting a new order.
Cancelling previous order...
Your order is already cancelled.