Show Taxi
WOOBAR - W Hong Kong
1 Austin Road West, Elements, Kowloon, Hong Kong, Hong Kong
WOOBAR
九龍柯士甸道西 1 號圓方, 香港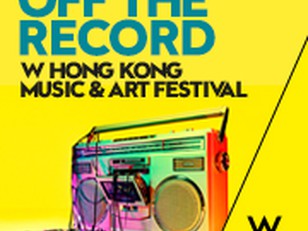 W HONG KONG PRESENTS: OFF THE RECORD MUSIC & ART FESTIVAL
Event Details
Show more
More Details
At W Hong Kong, you'll always find what's new and next in design, music, fashion and fuel. This November, we're taking it to the next level with a wild and wonderfully entertaining four-day music and art festival from November 3-6, 2016.
November 3rd (Thursday)
LAUNCH EVENT (Rob Prior x DJ Wordy)
The festivities kick off with a night of live art and performances by legendary artist Rob Prior and DJ Wordy from 9pm 'til late at our launch party.
Rob Prior is known for his work
on Buffy the Vampire Slayer and Terminator 3 and has also worked with Marvel Comics and DC comics. His work is as realistic as it is fantastical and showcases his incredible skill and flair with airbrush painting. Learn more >
China's rising star, DJ Wordy (Djwordy Wang)
has disrupted Western stereotypes about Chinese youth culture and has gone on to win DMC championship China in 2005, 2006 and 2007. His latest album was an innovative display of Chinese experimental hip hop and electronic music
9pm till late
Advance: HK$250
At Door: HK$400
____
November 4th (Friday)
URBAN HERITAGE (DJ EZ x Wais)
A curation of urban musicians and street artists!
Enjoy a curation of local artists with Love da Records and street artists from 2pm to 6pm at WOOBAR (free entry) over afternoon tea or a bit of daytime drinking.
As the sun sets, street artist Wais will be creating a live art installation inspired by W Hong Kong,
DJ EZ and his own work while
DJ EZ spins on the deck with Great British Sound System.
From north London, DJ EZ's creativity and eclectic mix of UK garage is the perfect complement to Wais' bold, colorful and geometric pieces. Hong Kong-based artist Wais has also previously done large-scale pieces as part of
HKwalls. Supporting acts include Kooky (Kooky MagSoul),
Sam Giles, Arthur Yeti (Arthur
Bray) and Dj Subcoat
2pm to 9pm
Free Entry
9pm to 3am
Advance: HK$250
At Door: HK$400
_____
November 5th (Saturday)
WAKE UP CALL (Maher Daniel & Gab Rhome)
A sensory journey of live and electronic music
Rather than lazing your day away, get inspired with live performances from a selection of local and independent artists with
Love Da Records (Official)
who will take you on an experimental journey through music and art from 2pm 'til 9pm (free entry).
Highlights include an electric showcase by DJ, percussionist and music producer
Barnaby Bruce as well as
art curation by Mischief Productions.
At night the party will then kick off with DJ
Gab Rhome and DJ
Maher Daniel who both perform
with such intensity and immense energy that you won't want the party to end.
After spending 50 years in the middle of the dessert,
Gab Rhome has come back to
civilization with soft hands and lush melodies that are guaranteed to enchant you. Having played at Creamfields, Igloofest and other top-tier festivals,
Maher Daniell is one of the
world's top techno and house DJs.
Supporting artists include Jeremy Cheung,
AKW (Adam Wright),
Casey Anderson (W Hong Kong
Resident DJ) and A-Squared.
2pm to 9pm
Free Entry
9pm to 3am
Advance: HK$250
At Door: HK$400
You already have an order in progress. Would you like to cancel the previous order and start again, or would you prefer to return to the previous order instead?
It seems you already have an order in-progress. Please finish or cancel your existing order before starting a new order.
Cancelling previous order...
Your order is already cancelled.