Show Taxi
Potato Head Hong Kong
100 Third Street, Sai Ying Pun, Hong Kong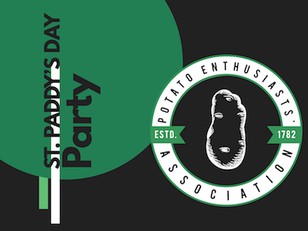 Potato Enthusiasts' Association presents St. Paddy's Day Party
More Details
Love a good hit of U2 and Sinead O'Connor? Appreciate a fine Irish whisky? Fiend for a hearty potato? Consider your St Patrick's Day sorted.
On Sunday March 17th from 3 – 6pm, the good people at the Potato Enthusiasts' Association are taking over The Music Room at Potato Head Hong Kong, bringing together several of Ireland's greatest digestible and audible hits in the one place, all in the name of one killer national day celebration.
With beginnings that date as far back to 1782, when Walter Teeling set up a small craft distillery on Dublin's Marrowbone Lane, you can rest assured committee members of the Potato Enthusiasts' Association have your St Patrick's Day covered.
With a whisky flight on arrival, a carefully crafted cocktail edit (heavy on the good stuff) and lashings of hot chips (c/o Three Buns burgers) served all afternoon, no thought has been spared. Giveaways? Tick! A fantastic limited edition Teeling Silk Road Collection whiskey where the East meets the West.
This party with a difference, will be set to the sound of vinyl records sourced the world over. Enjoy U2's 1987 classic, The Joshua Tree, Sinead O'Connor's stunning debut The Lion and The Cobra, and a third album to be announced on the day.
Sláinte!
Event Host
Potato Head Hong Kong
You already have an order in progress. Would you like to cancel the previous order and start again, or would you prefer to return to the previous order instead?
It seems you already have an order in-progress. Please finish or cancel your existing order before starting a new order.
Cancelling previous order...
Your order is already cancelled.