Show Taxi
Phuket Marriott Resort & Spa, Merlin Beach
99 Muen-Ngoen Road, Tri-Trang Beach, Patong Phuket, 83150 Thailand, Thailand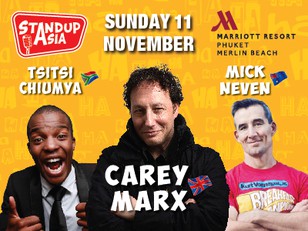 Carey Marx - Phuket
Carey Carey Quite Contrary
Event Details
Show more
More Details
CAREY MARX IN PHUKET
with Mick Neven and Tsitsi Chiumya
Sunday, 11th November at 8:30 PM
Marriott Resort & Spa, Merlin Beach, Phuket
"Highly engaging, devilish, menacing, and totally mesmerizing"
Edinburgh Guide ★★★★
"The mocking stance and unremitting march of cold logic will reduce you to howls of laughter"
Daily Mail ★★★★
.
Announcing STANDUP ASIA's next show featuring British, Australian and South African comedians.
CAREY MARX, writer and star of BBC Radio 4's Intensive Carey, twice winner of Best International Show at the New Zealand Comedy Festival, and Leicester Comedy Festival Best Show Nominee, has established himself firmly as one of the top stand-up comedians from the British circuit. Everything he turns his hand to becomes magically magnificent. Marx promises to deliver one of the best shows Phuket has ever seen through his blend of dark humour with mischief and glee. Join us on 11th November for his life-pondering, behavior-dissecting, twisted, brutal, and honest best.
One of Australia's busiest comedians, MICK NEVEN, will also be taking the stage to deliver a never-ending stream of punchlines. Intelligent, hilarious and always good-natured, Neven "delivers a performance with punch, humour, and a heart." His material is observant, sharp, satirical, and highlights the foibles of modern life in a likeable and relatable fashion. Neven has performed solo shows at the Edinburgh Fringe and Melbourne Comedy Festival, along with travelling to the Middle East to entertain armed forces overseas.
South Africa's hilarious comedian TSITSI CHIUMYA will also be sharing the laughter. From a small town in South Africa, Chiumya has managed to wow and entertain audiences across the globe. His "awkwardly relatable stories" led him to being nominated for South Africa's Best New Comedian in his first year on stage. This year, he has been hand-picked to perform alongside Trevor Noah on his televised special, NationWild. Chiumya has been described by SA Comedy Choice Awards as "deliciously challenging and blessed."
Tickets are on sale now from 350 THB (limited early bird), 600 THB (show only), 950 THB (BBS & show), or 1400 THB for VIP tickets, which includes free-flow drinks, meet & greet with the comedians, and the best seats in the house. Get your tickets today on TicketFlap: www.ticketflap.com/phuketcomedy-careymarx
You already have an order in progress. Would you like to cancel the previous order and start again, or would you prefer to return to the previous order instead?
It seems you already have an order in-progress. Please finish or cancel your existing order before starting a new order.
Cancelling previous order...
Your order is already cancelled.