Show Taxi
Phuket Marriott Resort & Spa, Merlin Beach
99 Muen-Ngoen Road, Tri-Trang Beach, Patong Phuket, 83150 Thailand, Thailand
TREVOR CROOK IN PHUKET
with Brian Aylward and Dustin Moore
Event Details
Show more
More Details
TREVOR CROOK IN PHUKET
with Brian Aylward and Dustin Moore
Sunday, 2nd December at 8:30 PM
Marriott Resort & Spa, Merlin Beach, Phuket
"Shines like a diamond"
Edinburgh Evening News
"One of those once in a lifetime finds"
London Evening Standard
"A fine comedian"
Brisbane Times
"Was that you getting all those laughs"
Ben Elton, comedian
Announcing STANDUP ASIA's next show featuring British, Canadian and South African comedians
TREVOR CROOK, winner of The Sydney Comic Of The Year Award and star of the award-winning podcast Babysitting Trevor with comedians Carl Donnelly and Chris Martin, has established a legion of fans and a growing recognition and respect between two continents and beyond, including the Arctic Circle. Born in northern England, CROOK grew up and began his comedy career in Australia. Described by Donelly as one of the funniest men on the planet, CROOK has toured with other high-profile comedians, including Jimeoin and Ben Elton, and has performed numerous feature spots on some of the most respected networks on television and radio. Come be fascinated on 2nd December by his hilarious honesty, which veers from bawdy to touching.
Canada's hilarious comedian BRIAN AYLWARD will also be sharing the laughter. Founder of Stand Up Seoul and Mad About Comedy Bangkok, AYLWARD stepped on stage for the first time in 2005 – on a bet. Since then, AYLWARD has established himself as an international stand-up act, being described as "one of Canada's best" (The Telegram) and "one of Asia's most influential stand-up comedians" (The Korea Times). AYLWARD has won numerous competitions and his most recent accolades include being named Best Standup Comic at the 2016 Canadian Comedy Awards and nominated Best Comedy at the 2017 Fringe World in Perth, Australia.
Do not miss TREVOR CROOK (UK) with special guest BRIAN AYLWARD (Canada) and host DUSTIN MOORE (South Africa). Tickets are on sale now from 350 THB (limited early bird), 600 THB (show only), 950 THB (burger, 2 Moosehead beers & show), and 1400 THB for VIP tickets, which includes free-flow drinks, meet & greet with the comedians, and the best seats in the house. Get your tickets today on TicketFlap: www.ticketflap.com/phuketcomedy-trevorcrook
About STANDUP ASIA
STANDUP ASIA is a Singapore-based company that organizes comedy festivals and events throughout Asia. It has brought international headliner comedians, such as Doug Stanhope and Bill Bailey, to vibrant, multicultural audiences across the region. For more information, please contact Sammy Grill: sammy@magicrock.com.sg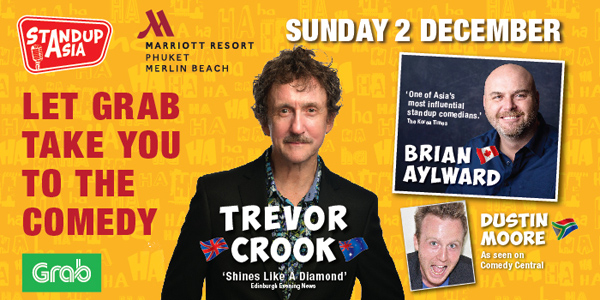 You already have an order in progress. Would you like to cancel the previous order and start again, or would you prefer to return to the previous order instead?
It seems you already have an order in-progress. Please finish or cancel your existing order before starting a new order.
Cancelling previous order...
Your order is already cancelled.