Show Taxi
Hidden Agenda (Winful Industrial Building) - Dont use
2A, Winful Industrial Building, 15-17 Tai Yip Street, Kwun Tong, Hong Kong, Hong Kong
Hidden Agenda
永富工業大廈 2 樓 A 室, 大業街 15-17 號, 香港牛頭角, 香港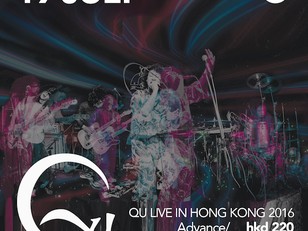 Qu - Laundry - Live In Hong Kong
Human Beatbox!? 沒有人聲但擁有主音既樂隊 - 來至日本神戶既Qu
Event Details
Show more
More Details
Human Beatbox!?
沒有人聲但擁有主音既樂隊 - 來至日本神戶既Qu
演出樂隊 Performing band:Qu (JP)
暖場樂隊 Guest Bands:GDJYB (HK)
日期Date : 19 July 2016
時間Time : 8:00PM
地點Venue:Hidden Agenda
門票Ticket:$220(Adv)
Qu (JP)
Qu (pronounced "cue") is a Japanese instrumental rock band fronted by a human beat box. Formed in 2012 in Kobe, Japan.
We perform more than 50 shows a year, including tours abroad.
Our first full-length album is slated for release in Japan on January 7th, 2015.
We combine elements of hip hop, electronica, ambient, heavy rock, and emo to create a truly unique sound.
●●●●●● ●●●●●● ●●●●●● ●●●●●●
GDJYB - 雞蛋蒸肉餅 (HK)
雞蛋蒸肉餅簡稱雞餅或GDJYB,成立於2012年的香港四人女子獨立樂隊。成員有主音Soft、結他手Soni、貝斯手YY 和鼓手Hei Hei 。自稱為算術民謠組合,以Honglish為創作語言,曲風平淡溫柔得來有點大風。曾在香港的Fringe Club、Hidden Agenda、蒲窩、K11、各大專院校和不同音樂活動演出,包括香港最大型戶外音樂節
Clockenflap。2014年被Time Out Hong Kong Magazine選為城中23 New Rising Stars其中之一,首張EP於同年9月發行並在蒲吧舉行發佈會。2015年5月底為日本獨立樂團tricot香港場擔任開場嘉賓。7月中首次飛抵台灣嘉義參加《Wake Up 音樂祭》,並在台北小地方展演空間舉行 《台北小雞蛋演唱會》。
GDJYB is a Hong Kong-based indie math-folk girl band. Formed in August 2012, the group consists of guitarist Soni Cheng, drummer Heihei Ng, vocalist Soft Liu and bassist Yellow Yi Wong. The name
GDJYB is from a local Chinese dish (Gai Dan Jane Yuk Bang, steamed meat loaf with egg). By fusing math-rock and folk music genres in Honglish (Hong Kong English), GDJYB is bringing something distinctive and fresh to the indie music scene through the changing tempos and patterns. The band have been to various music festivals and live houses, like Fringe Club, Hidden Agenda and Clockenflap. In 2014, GDJYB is selected as one of the '23 New Rising Stars in Hong Kong's new music' by Time Out HK Magazine, and released their debut EP in Sep. In July 2015, GDJYB participated in
Taiwan Wake Up Music Festival, and organised their first mini concert in Taipei.
Facebook | Youtube | Instagram:
GDJYB
You already have an order in progress. Would you like to cancel the previous order and start again, or would you prefer to return to the previous order instead?
It seems you already have an order in-progress. Please finish or cancel your existing order before starting a new order.
Cancelling previous order...
Your order is already cancelled.