Show Taxi
MGM Macau
Avenida Dr. Sun Yat Sen, Macao, China, Macao

澳門外港新填海區孫逸仙大馬路, 澳門美高梅, 澳門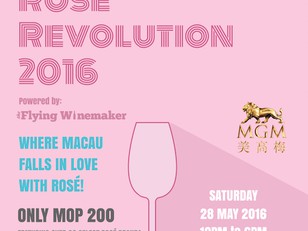 Rosé Revolution 2016 Macau
Event Details
Show more
More Details
Asia's favourite Rosé festival is back and returns to Macau in 2016! What better way to kick off summer than by finding your favourite Rosé from over 20 of the best pink pours at the glamourous MGM MACAU.

"The Rosé Revolution has built a reputation for not only the variety and quality of wines shown, but also as an opportunity for beginners, day drinkers, wine lovers and experts alike to mix and mingle whilst enjoying an awesome day out." - Eddie McDougall
Doors open at 12:00pm noon and festivities continue until 6:00pm. Entrance to the event is via The Vista at MGM Macau.

Event Host
The Flying Winemaker
You already have an order in progress. Would you like to cancel the previous order and start again, or would you prefer to return to the previous order instead?
It seems you already have an order in-progress. Please finish or cancel your existing order before starting a new order.
Cancelling previous order...
Your order is already cancelled.