Show Taxi
KITEC Music Zone @ E-Max
Ground Floor, KITEC, 1 Trademart Drive, Kowloon Bay, Hong Kong

展貿徑1號九龍灣國際展貿中心地下, 九龍灣, 香港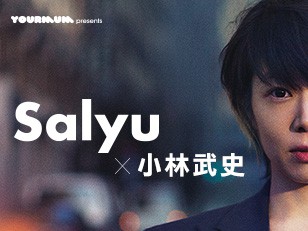 YourMum presents: Salyu x Takeshi Kobayashi, Live in Hong Kong
For fans of: Love Psychedelico, Mr Children, Cheer Chen, Yen Town Band.
Event Details
Show more
More Details
YourMum is thrilled to announce that Japanese singer extraordinaire, Salyu, will make a rare live performance in Hong Kong at KITEC MusicZone on May 22.
Introduced to the world in 2001 starring in Shunji Iwai's celebrated film 'All About Lily Chou-Chou', both the movie and Salyu's character quickly achieved cult phenomenon status. Based around a fictional singer, Lily Chou-Chou, the film project went on to produce an album and two related singles to popular acclaim. Further movie-based notoriety followed when Quentin Tarantino spotted her talent and selected her track 'Kaifuku Suru Kizu' as part of his own cult smash 'Kill Bill'.
Her first big break came in 1998 when composer and producer Takeshi Kobayashi happened upon an audition tape and was immediately smitten. The duo met and forged a partnership which went on to cement her own solo career and produce 16 singles, five albums (including a best of) and shows no signs of letting up. Salyu (her stage name inspired by the French greeting "salut") has also collaborated with the likes of Yo Hitoto, Tatsuya Kokufu and Zentaro Watanabe, and of course on her cutting edge Salyu x Salyu project co-created and produced with electronic mastermind Cornelius. Her latest album, 2015's 'Android & Human Being' has been followed by a string of successful live dates including a sold-out debut show in Taiwan.
Now, fans in Hong Kong have the long-awaited opportunity to catch this cult legend perform an intimate, one night only show on May 22. Tickets are going to be in hot demand, so do not delay. Act fast to avoid disappointment!
You already have an order in progress. Would you like to cancel the previous order and start again, or would you prefer to return to the previous order instead?
It seems you already have an order in-progress. Please finish or cancel your existing order before starting a new order.
Cancelling previous order...
Your order is already cancelled.