Show Taxi
The Hive, Kennedy Town
8th Floor, Unit 1, Cheung Hing Industrial Building, 12P Smithfield, Kennedy Town, Kennedy MTR, nearest exit A, Hong Kong
Solo-performance: "What's Wrong With Me?" & "DARK ROOM"
More Details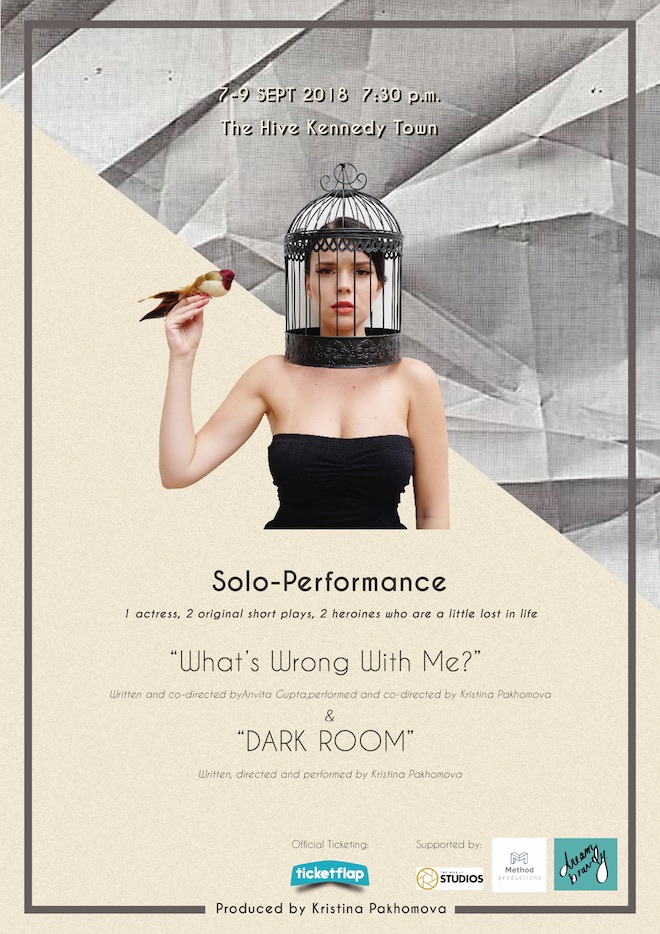 Sold out in Singapore, the two original one-woman shows are a collaborative effort of talented women coming together. And for its Hong Kong premiere, we'll be pairing them up for a bigger, greater, exhilarating experience. Prepare to be taken on a roller-coaster ride of emotions, filled with laughter, tears, awkwardness and sarcasm that's a reflection of everything that's normal.
1 Actress
2 short original plays
2 heroines Diana and Fey, who are lost in life in their own way.
WHAT'S WRONG WITH ME?
A sensitively done comedy piece about a woman named Fey, who goes through her struggles as a psychiatric patient, unknowingly diagnosed with Asperger's syndrome, along with a cocktail of many more symptoms…She talks about her daily life and awkward moments in a humorous way.
Written and Co-directed by Anvita Gupta
Performed, produced and co-directed by Kristina Pakhomova
DARK ROOM
A life of an expat wife in Hong Kong seems pretty perfect. After all, what could be better than being a wealthy woman, with the privilege of traveling wherever you want and buy whatever you want, instead of holding down a nine-to-five job? Dark Room, however, exposes the bleak truth hiding beneath the gilded facade. It tells the story about Diana Halikova, a Russian woman who relocated with her husband to Asia for a better life but instead finds herself stranded with no career, no social life and an absent husband. Finding herself in the very situation she was always afraid of: lonely, jobless and stuck, now she has to make a choice.
Written, directed, produced and performed by Kristina Pakhomova
Suitable for Age 16+
#soloperformance #soloshow #theatreshow #wwwm #darmroom
Event Host
KrisP. Production
You already have an order in progress. Would you like to cancel the previous order and start again, or would you prefer to return to the previous order instead?
It seems you already have an order in-progress. Please finish or cancel your existing order before starting a new order.
Cancelling previous order...
Your order is already cancelled.