Show Taxi
Hidden Agenda (Winful Industrial Building) - Dont use
2A, Winful Industrial Building, 15-17 Tai Yip Street, Kwun Tong, Hong Kong, Hong Kong
Hidden Agenda
永富工業大廈 2 樓 A 室, 大業街 15-17 號, 香港牛頭角, 香港
Sworn Enemy Live in Hong Kong 2015
Event Details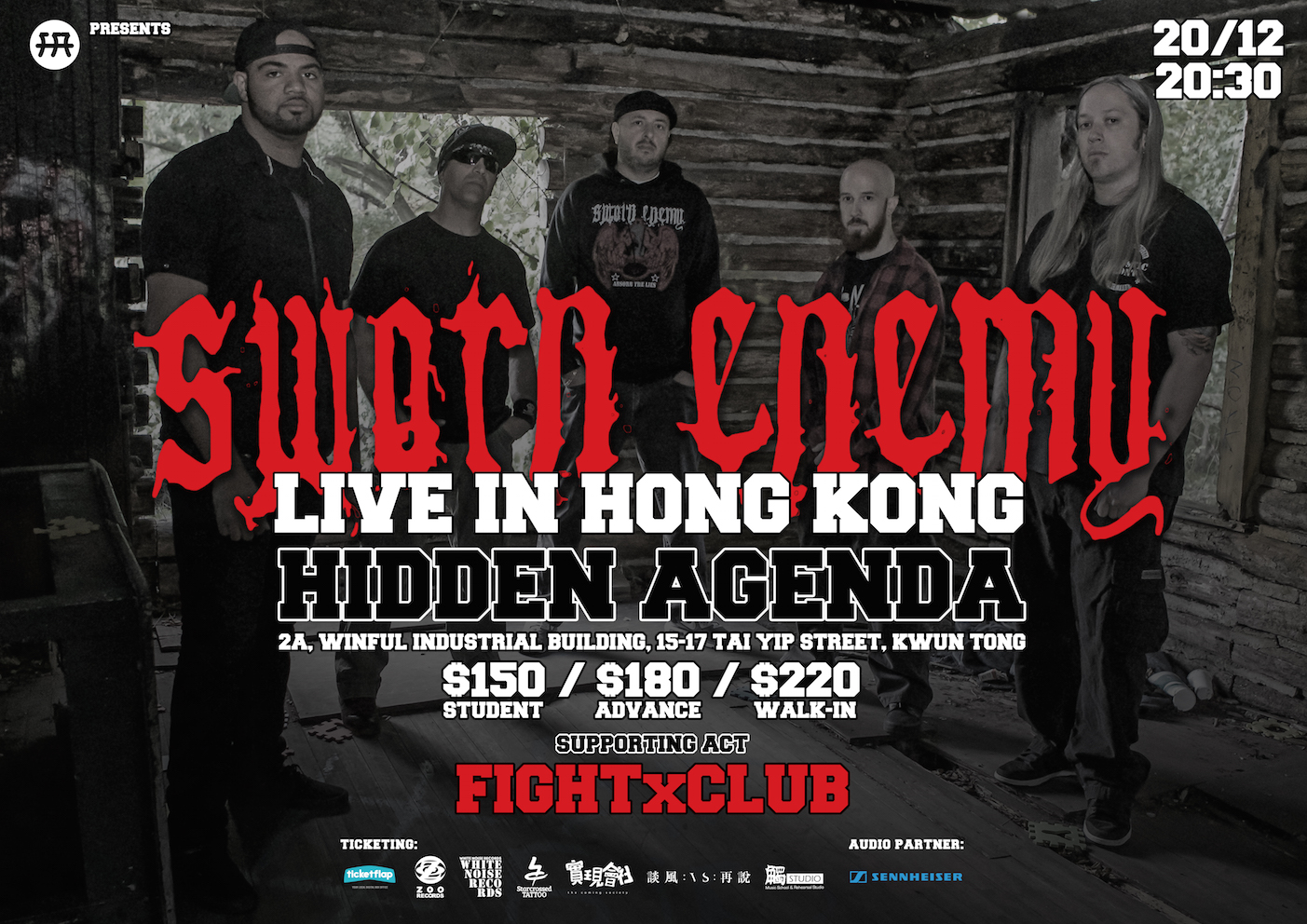 Show more
More Details
Sworn Enemy is Thrash Metal band formed in 1997. It is named as "Downfall" and later on as "Mindset", a product of the extremely expansive and influential New York Hardcore scene. At its original inception the band centered around founding members: vocalist Sal Lococo, lead guitarist Lorenzo Antonucci, 2nd guitarist Mike Raffinello, bass player Mike Palmer and drummer Zoli.

The band's early output as Mindset was limited to a demo, an appearance on the New Found Hope II - The First Amendment compilation CD, and a 3 song 7 inch named State Of Mind.

Soon after the State Of Mind release, another band named Mindset appeared on the underground metal scene, having existed as Mindset before the Queens Mindset. Therefore, Sal and crew changed their name to Sworn Enemy.
https://en.wikipedia.org/wiki/Sworn_Enemy
https://www.facebook.com/OfficialSwornEnemy/
https://www.youtube.com/user/SwornEnemyNYHC/
You already have an order in progress. Would you like to cancel the previous order and start again, or would you prefer to return to the previous order instead?
It seems you already have an order in-progress. Please finish or cancel your existing order before starting a new order.
Cancelling previous order...
Your order is already cancelled.