Show Taxi
Salon 10
10 Arbuthnot Road , Central, Hong Kong, Hong Kong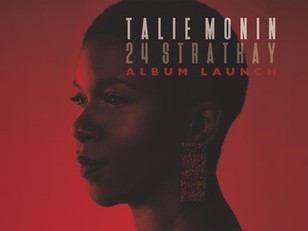 Talie Monin '24 Strathay' Album Launch
Event Details
Show more
More Details
Come and hear Montreux Jazz Festival Audience Choice Award-winning vocalist Talie Monin as she launches her new sensational debut album '24 Strathay'.
A standout vocalist since her earliest days growing up in Johannesburg, South Africa, Talie Monin, (Nqobile Mchunu in her native Zulu) won numerous local singing contests and was deeply inspired by the contemporary jazz music her parents, aunts and uncles surrounded her with.
Talie became an immediate hit with Asian audiences due to her unique delivery and vast knowledge the standard jazz repertoire.
In 2017, Talie Monin performed at the Montreux Jazz Festival and won 'Audience Choice Award' honours. She was invited back to Montreux the following year to open for Chick Corea and performed her original tune ~ 'Where's That Man?" to a
warm, rousing reception from the standing room only crowd.
In 2018 , Talie was invited to give a special spotlight performance at the Imbokodo Jazz Festival in Durban, South Africa, where she was the only performer to receive a standing ovation. More recently Talie Monin gave a sensational command performance at the Nelson Mandela 100th Centennary Celebrations held in Beijing, China. She also headlined at the Hong Kong International Jazz Festival in October 2018. The album '24 Strathay' was released in January 2019 by Luna Ma Records. The songs on this project reflect both her deep African musical roots and her longstanding love for the Great American Songbook and contemporary jazz.
Impossible to pigeon hole, Talie Monin offers a compelling blend of African~inspired music along with carefully selected contemporary tunes, plus a great many original compositions that make an immediate positive on listeners.
For more information please mail: talie@taliemonin.com
Ticket price includes album. Don't miss it!
You already have an order in progress. Would you like to cancel the previous order and start again, or would you prefer to return to the previous order instead?
It seems you already have an order in-progress. Please finish or cancel your existing order before starting a new order.
Cancelling previous order...
Your order is already cancelled.