Show Taxi
Discovery Bay, Main Plaza & Tai Pak Beach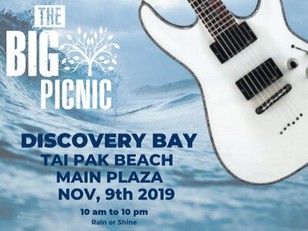 The BIG Picnic 2019
Event Details
Show more
More Details
Hong Kong's biggest community music & dance festival is back!
The Big Picnic is an outdoor music and dance festival held at Discovery Bay's Main Plaza and Tai Pak Beach. With 10 hours of live entertainment on 4 great stages, a kids zone, food, beverage and Handmade Hong Kong market stalls, there is something for everyone to enjoy.
Become immersed with the festival spirit - experience live and original performances from Hong Kong's best and rising talent.
Support our mission to encourage Hong Kong local and independent performers to showcase their art, and make a difference as the festival counts down the sale of event wristbands donating a generous percentage of proceeds to Plastic Free Seas Hong Kong.
Truly a community festival on all levels with greater visibility and easier accessibility; step straight off the DB Ferry or DBAY Bus Terminus and into the hustle and bustle of market stalls, food and drink options, the main plaza stage and the dance stage.
A few more steps through the promenade's alfresco dining and you reach the beating heart of the festival on Tai Pak beach, boasting professional festival stages, a big screen, beach bar with acoustic and DJ acts, and multiple beach pop up dining facilities.
For more information check out our website and social media:
https://www.thebigpicnichk.com/
Instagram: instagram.com/thebigpicnichk/
Facebook: facebook.com/thebigpicnichk/
See you on Saturday, November 9th!
#thebigpicnichk #music
Event Host
Hazard Records Ltd
You already have an order in progress. Would you like to cancel the previous order and start again, or would you prefer to return to the previous order instead?
It seems you already have an order in-progress. Please finish or cancel your existing order before starting a new order.
Cancelling previous order...
Your order is already cancelled.